Dr. Burzynski & Antineoplastons | The Magical Drugs for Cancer?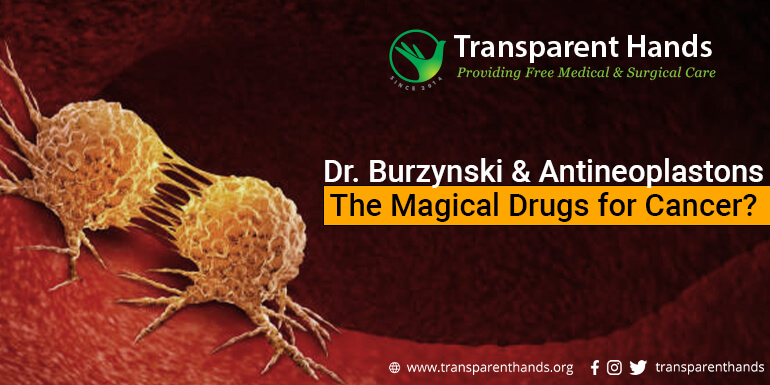 Who Is Dr. Burzynski? 
Dr. Stanislaw Burzynski is a graduate of the Medical Academy, Lublin, Poland. He has a Ph.D. in biochemistry. His rise to fame, however, occurred when he laid the foundation of Burzynski Research Laboratory in 1977 and administered Antineoplastons therapy to 21 cancer patients. He then went on to establish the Burzynski Research Institute in 1984.
What Are Antineoplastons?
Antineoplastons are a group of chemical compounds. These compounds are present in the blood and urine of an individual. Structurally, their building blocks are amino acids and peptides. All proteins have amino acids as their building blocks. In the case of peptides, they are made of two or more amino acids. The name Antineoplaston was coined by Dr. Burzynski for this group of peptides, suggesting that they have a potential anti-proliferative role.
What Is Antineoplaston Therapy?
Antineoplaston therapy is a type of alternative cancer treatment. Alternative cancer treatment is a term used to describe cancer treatments or practices which are not a common theme in conventional cancer treatment. Apart from Antineoplaston therapy, some other examples of alternative cancer treatment include special diets, exercises, and herbs.
Can You Get Antineoplastons?
Originally, Antineoplastons were isolated from human urine. However, today, they can be synthesized in a chemical laboratory. Despite the ease with which they can be synthesized in a lab, the U.S. Food and Drug Administration has not given its nod of approval for using Antineoplastons to prevent or treat any disease or disorder. Rather, FDA has expressed its reservations against this treatment. 
Is Antineoplaston Therapy Recent?
It often pops up after a certain time in the news, but Antineoplaston therapy isn't recent research. In the USA, it has been offered ever since the inception of the Burzynski Clinic and Burzynski Research Institute back in 1984.  
How Effective Is Antineoplaston Therapy?
Dr. Burzynski, doctor's associates and some of the patients who received the Antineoplaston therapy claim that the experiment of administering Antineoplastons was successful. But there doesn't exist concrete clinical evidence to support these claims made about the Antineoplaston therapy's efficacy. Leading cancer research institutes like the American Cancer Society and Cancer Research U.K. have declared Antineoplaston therapy as an unproven therapy. Furthermore, independent researchers haven't been able to reproduce the results that have been shared in Dr. Burzynski's published studies. 
What Is The Chemical Formula of Antineoplaston?
Antineoplaston A10 is the generic name for chemical compounds used in Antineoplaston therapy. They have been used in clinical trials that studied sarcoma, lymphoma, lung cancer, liver cancer, and kidney cancer treatment. The chemical formula for these small molecules is C13H14N2O3. The average weight of Antineoplastons is 246.22. 
What Is The Result of Clinical Trials Regarding Antineoplastons?
Results from randomized controlled trials often form the basis of trust in the scientific world. No evidence from the clinical trials studying the effect of Antineoplastons yielded credible scientific evidence in favor of the therapy. Of course, this is very much in contrast to what the Burzynski Research Institute has to say on the subject matter. It continues to claim that the therapy is one of the most effective treatments against different types of cancer.
What Is The Cost of Antineoplaston Therapy?
The American Cancer Society estimates that Antineoplaston therapy can cost as much as $7,000-$9,500 per month. This cost is not a constant factor; it can be affected by several factors. Treatment types, consultation numbers, and catheter implantation for drug delivery are some of these factors.
The Legal Issues Concerning Antineoplaston Therapy?
 FDA has issued several warnings and letters of concern and investigated Dr. Burzynski and his team about the impact of Antineoplaston therapy on the subjects. The probes and lawsuits span over a decade of four years. However, Dr. Burzynski has managed to keep the institutions he established still going, even after being sanctioned by the Texas Medical Board on 3rd March 2017.  
Why Did People Use Antineoplastons In the First Place?
Dr. Burzynski and his fellow researchers presented the findings from their studies which suggested that Antineoplastons are a part of the body's natural defense system against tumors. 
The Side Effects Associated With Antineoplastons?
There are many side effects associated with Antineoplaston therapy. Some of these side effects include anemia, abnormally low levels of calcium in the body, high blood pressure, irregular heartbeat, dizziness and a loss of appetite. Furthermore, fatigue, numbness, swelling in joints, headaches, sickness, sleepiness, skin rashes, fits and cerebral swellings are also included in the long list of side effects associated with Antineoplaston therapy.
What Is The Best Treatment to Cure Cancer?
Today, there is a long list of cancer treatments available. Chemotherapy, immune therapy, radiation, CAR T cell therapy, all these treatments are effective in their place if the diagnosis is made at the right time. But surgery is the primary type of cancer treatment used for different types of cancers. Surgical treatment is preferred over other forms of cancer treatment when the patient is sensitive to radiation therapy or chemotherapy. Some other treatment options include targeted therapy, hormonal therapy, and laser therapy.
Can a human produce Antineoplaston naturally?
Antineoplastons are naturally occurring compounds that are found in blood and urine, so yes, human beings do have these compounds naturally. 
Conclusion
Antineoplaston therapy is an experimental cancer therapy that gained a lot of hype and fame in the last few years. However, because of the controversies that surfaced in those years, it has never been given a nod of approval by the FDA. Perhaps, one day, more research into the role of Antineoplastons can put an end to this debate. 
(The information in this article should not be taken as a substitute for professional medical advice)