Gender: Male
Age limit: 22 – 40
Experience: 1-3 Years
Location: Lahore
Education: B.A/BSC Computer Science or any relevant degree holder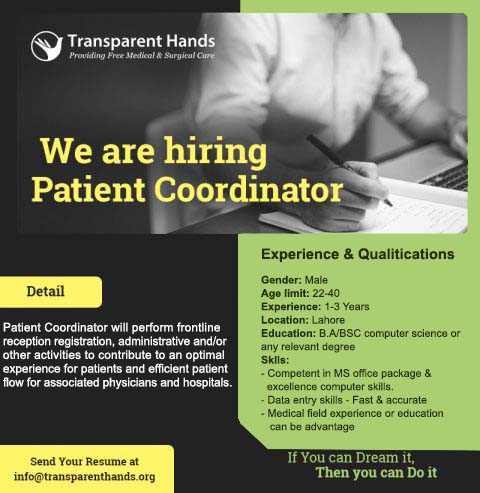 Job Description:
1. Patient selection and rejection according to TH's SOPs.
2. Educate patient and their family about the condition of patient which he/she is suffering
from and explaining TH roles.
3. Register patients by verifying patient's current & accurate record after Financial and
Medical verification, prepare patient's file and maintain a filing database system for
creating patient charts if required.
4. Visit patient's home to verify his/her financial status. (If required)
5. Organize, handle and keep patient's paper and electronic files.
6. Approximate amount of each surgery should be checked from doctor / hospital or prepare
yourself according to the rates of hospital and get it approved before patient's form
submission.
7. Contact patients, hospitals and doctors to schedule appointments for surgery.
8. Manage patient's care, coordinate with hospital faculty, doctors and patients during the
admission & at discharge to check patient has been operated successfully and timely
inform management.
9. Collect follow ups timely from patient after the surgery and maintain follow ups file and
share with management if any issue occurs.
10. Collect patient data including pictures and videos / interviews and upload on TH's
Server.
11. Arrange / attend meetings in different cities for collaborating with hospitals / signing
agreements / setting up medical camps.
12. Placement of printing order and its collection.
13. To achieve number of patient registration goals, visit hospitals / contact doctors / arrange
camps or other activities as per requirement.
14. Answer telephone calls and reply to messages for patient's inquiry and doctor
appointments.
15. Utilizes good time management skills and perform other duties as assigned related to
patient management.
16. Check hospital files, highlight/solve discrepancies and provide files to accounts within
given time.
17. Other tasks can be assigned as per requirement.
Job Features
| | |
| --- | --- |
| Job Category | Administration Jobs |