Donate Chand for his Pull Through Surgery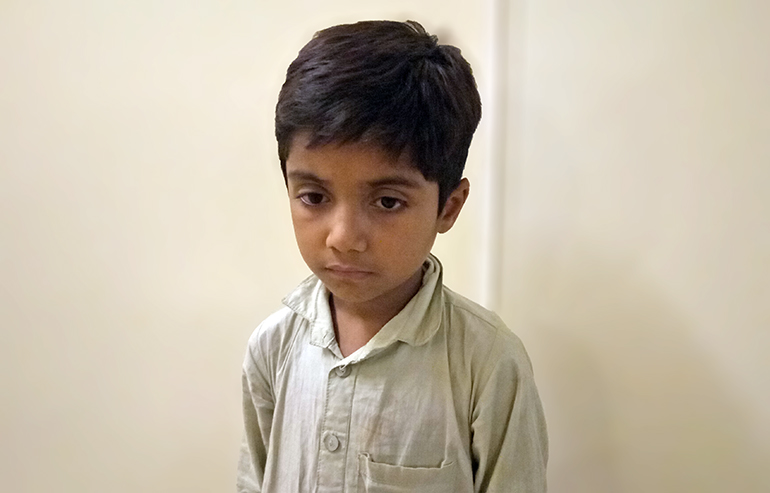 Chand Ali's Story
"We are worried because we cannot afford to pay for our son's treatment. We hope that he may get well soon and return to school", says Chand's parents.
Chand is a 8 years old boy who lives in a small town of Kasur with his parents and 3 school going siblings. Chand is a student of 8th class but he often skips school due to his disease. Chand was born with Hirschsprung disease – a condition that affects the large intestine (colon) and causes problems with passing stool. The condition is present at birth (congenital) as a result of missing nerve cells in the muscles of the baby's colon.
He underwent first surgery when he was only a few days old. Doctor made a passage for his stool and opened the colon on his abdomen. He advised that Chand needs to undergo another surgery to close the colon and revert his stool passage. His parents requested the same hospital for second surgery. Eight years have passed but Chand didn't get any surgery date due to long waiting list. Chand's family don't have enough money to get him operated from a private hospital. His father works as a labourer and hardly earns around 12,000 rupees a month. In such meager income, he has to pay the school fees of his children and also bear the household expenses including house rent. When this family came to know about Transparent Hands, they were relieved to know that Chand will undergo required surgery for free.
Chand is scheduled for his pull through surgery in a few days at Akram Medical Complex. He is unable to go to school due to hygiene issues. Please support him in his surgery so that he can get rid of his painful symptoms and start his school again.
Donate for his surgery now!
Donors who are supporting Chand Ali

---
---