Donate Daim for his Colostomy Closure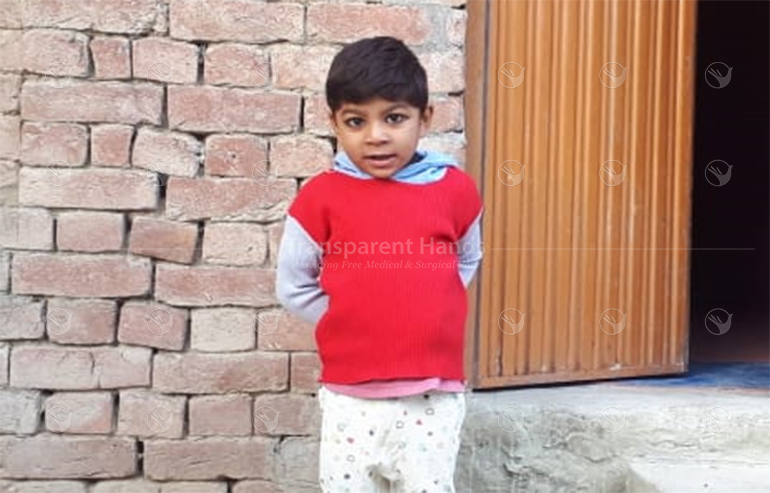 Daim Masih's Story
"When Daim was placed in my arms for the first time, I was emotionally overwhelmed to see how the Almighty has showered me with His uncountable blessings and mercy. It is really heart wrenching for me to see him crying in pain every moment."- Daim's mother.
Daim is a 5 years old loving boy who was born with a disease – Anorectal Malformation. Due to this disease, he had underdeveloped anus and rectum causing the formation of narrow anal passage.
At the age of 6 months, his first surgery (Colostomy) was done in a local hospital. When he was 4 years old, he was operated for the second time to construct his back passage. Now he needs a colostomy closure so that he can return back to his normal life.
His father has tried really hard for one year to arrange the required money for his surgery but failed. Daim's father is a daily wage laborer and earns only 15,000 per month. Daim has one younger brother who is a toddler. His grandparents also live with them. They live in a small house in joint ownership.
Daim has reached the age when he should attend school, play with friends and live life in a carefree manner but this disease has crippled his social life due to stoma bag which is placed on his abdomen. He cannot even go out and play due to hygiene issues. Daim's father knocked at the door of many institutes for financial help but every time he was returned empty-handed. That's when he came to know about Transparent Hands.
Daim is now scheduled for his colostomy closure in a few days at Akram Medical Complex. Your donations can help Daim's parents to build a firm foundation of his future. Surgeons can commence his surgery only if you extend your generous hands to support him.
Your donation is valuable to him. Donate Now!
Donors who are supporting Daim Masih

---

---

---

---