Donate for Asma Ashraf's Cochlear Implant Surgery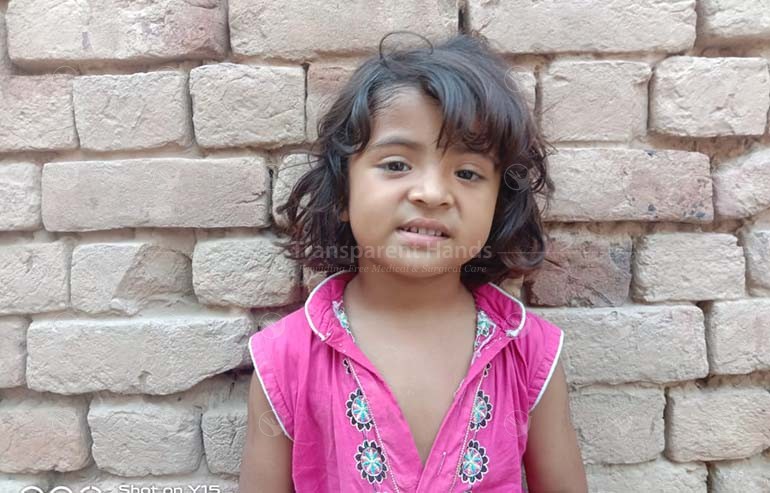 Asma Ashraf's Story
Before you read the heartbreaking facts of Asma Ashraf's tale, keep in mind that your donations can help her discover a whole new world. Your contributions, no matter how small, will make a significant difference in her life. So, we respectfully urge that you please donate for Without your support, this will not be possible. We strongly urge you to contribute as much as possible to Asma Ashraf's Cochlear Implant.
Asma Ashraf, a four-year-old Faisalabad native, has not been able to fully enjoy her childhood. Asma has Congenital Sensorineural Hearing Loss (CSHL). Her parents observed that she was not responding or reacting to sounds when she was only a year old. They took her to a local hospital. An ENT specialist suggested some tests to evaluate the cause. After the test reports came, the doctor recommended that they get her a hearing aid, which they couldn't afford. Her hearing sensitivity deteriorated significantly. Following a second consultation, the doctor recommended that they get Asma a Cochlear Implant. A cochlear implant receives sound from the outside environment, processes it, and sends small electric currents near the auditory nerve. These electric currents activate the nerve, which then sends a signal to the brain. The brain learns to recognize this signal and the person experiences this as "hearing".
Asma's father runs a tiny shop and barely makes enough money to support his family. Being the sole earner in the family and raising a family of four on this meagre income is difficult enough for him. The expense of this procedure is extremely expensive for him. He has no friends or family who can help him financially. Asma's father expressed his grievances to Transparent Hands:
"Daughters are princesses to their fathers, and I want to raise mine like one. However, it brings tears to my eyes to see my daughter miss out on her childhood due to her hearing impairment. Transparent Hands brought my wife and myself hope."
Fortunately for Asma, she has now been connected with Transparent Hands, and we are committed to assisting her and restoring her sense of hearing. That being said, without your generous support, this will not be possible. We strongly urge you to contribute as much as possible to Asma Ashraf's Cochlear Implant.
---
Disclaimer: Transparent Hands makes sure that all the patients get surgery in time. If a patient requires urgent surgery and his/her condition is serious, Transparent Hands conducts the surgery immediately. In the meantime, his/her campaign stays active on the website until we raise the complete funding. The hospitals on our panel have complete trust in us and wait for the payments until the patient's funding is completed.

---

---

---

---

---

---

---

---
---
---