Donate for Jamil's Artificial Leg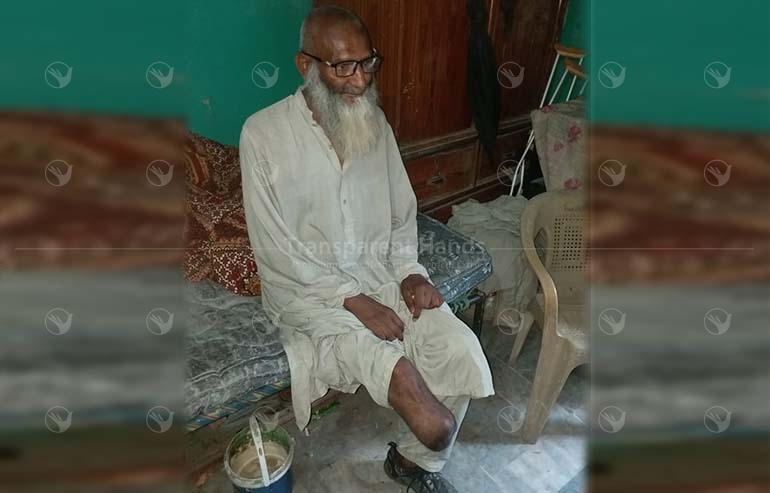 Muhammad Jamil Ahmad's Story
Jamil has experienced a lot of grief and pain over the last few years. He lost his right leg due to diabetes. Now, he needs our support to acquire an artificial leg to walk independently again. He lives with his sister who is mentally challenged and they have no source of income. We urge you to donate for Jamil's artificial leg without any delay. 
Muhammad Jamil Ahmad had a diabetic foot six years ago. His foot became inflamed and he went to the doctor for a check-up. The doctor just prescribed symptomatic treatment. With the passage of time, his inflammation became worse and progressed to gangrene. The doctor had to amputate his right leg below the knee level. Now, he needs an artificial leg to regain his mobility. 
Jamil, a 55-years-old resident of Peshawar, lives in a small house with his mentally challenged sister. With no income and only PKR 10,000 per month as support to bear his household expenses, he struggles to make ends meet. Therefore, it is extremely difficult for him to pay for an artificial leg, which he needs as soon as possible to improve the quality of his life, carry out the basic chores at home, and take care of his mentally challenged sister. 
He feels extremely helpless and said: 
"Sometimes, I feel a great burden on my heart. I have not been able to take care of my only sister, who is mentally challenged, since my leg was amputated. I am unable to work and without making a living, it is becoming impossible for us to survive in this economic crisis. I just want to return back to the life I had before I lost my leg."  
He has registered his case with Transparent Hands with great hope. To provide him with an artificial leg, we need your generous donations. Please donate for Jamil's artificial leg to improve his life. 
---
Disclaimer: Transparent Hands makes sure that all the patients get surgery in time. If a patient requires urgent surgery and his/her condition is serious, Transparent Hands conducts the surgery immediately. In the meantime, his/her campaign stays active on the website until we raise the complete funding. The hospitals on our panel have complete trust in us and wait for the payments until the patient's funding is completed.

---

---

---

---