Donate for Muhammad Faizan's Cochlear Implant Surgery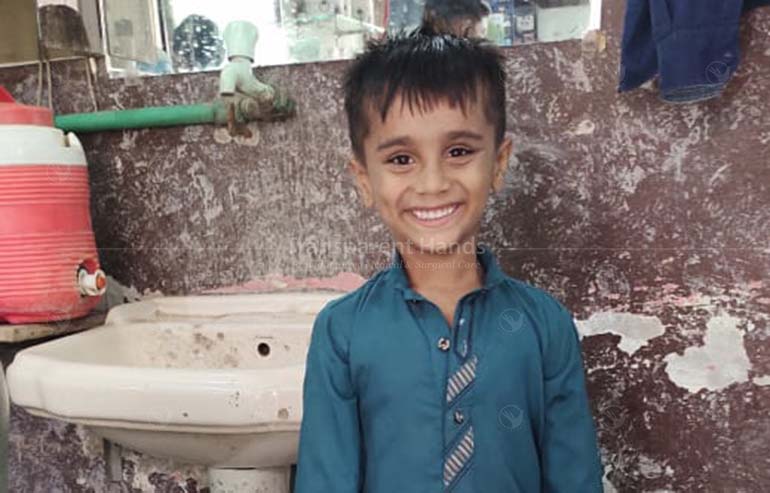 Muhammad Faizan 's Story
Donate for Muhammad Faizan's Cochlear Implant Surgery. 5-year-old Muhammad Faizan, a resident of Okara was suffering from sensorineural hearing loss by birth. His parents were unaware of this till he reached the age of one. When they realized their son's disability, they got him to a hospital. After evaluation, he was diagnosed with sensorineural hearing loss. ENT specialists advised him to get a cochlear implant placed in his ear. A cochlear implant is a small, complex electronic device that can help to provide a sense of sound to a person who is profoundly deaf. According to the doctors, sensorineural hearing loss is not 100 percent treatable but cochlear implant is the best possible option for a person to hear again.
A cochlear implant is an expensive procedure that Muhammad Faizan's father cannot afford. He earns a mere income of PKR. 15,000. He has a family of five members to support with an income below the minimum wage bracket. In these expensive times, it is very difficult for him to afford this surgery.
"My son has been in a lot of discomfort since he was born. As a father, it is very difficult for me to have him in this condition. Please help us get his surgery done so he can hear again. I am waiting for that day when we will call him with his name and he will respond happily. That will be the happiest day of my life."   Rizwan Ali   (Muhammad Faizan's father)
Recently, his father came to know of Transparent Hands and registered his case with us. Now only your donations can help Muhammad Faizan hear the voices of his family. This 5-year-old deserves to get his hearing ability back. Please contribute whatever you can and donate for Muhammad Faizan's Cochlear Implant Surgery. 
---
Disclaimer: Transparent Hands makes sure that all the patients get surgery in time. If a patient requires urgent surgery and his/her condition is serious, Transparent Hands conducts the surgery immediately. In the meantime, his/her campaign stays active on the website until we raise the complete funding. The hospitals on our panel have complete trust in us and wait for the payments until the patient's funding is completed.

---

---

---

---

---

---

---

---

---

---

---

---

---

---

---

---