Donate for Razzaq's Leg Prosthesis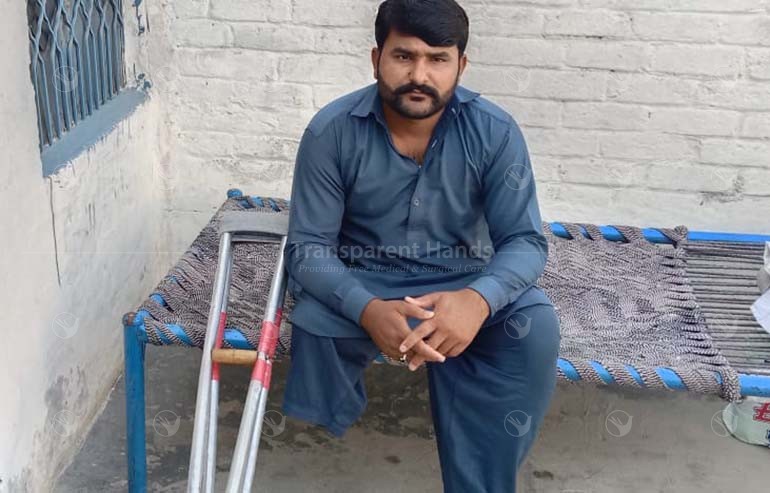 Abdul Razzaq's Story
Abdul Razzaq has been trying to get his life back on track, but this will not be possible without your help. Please know that your donations will unlock a better future for this young man. We urge you to donate for Razzaq's Leg prosthesis.
Abdul Razzaq, a 24-year-old resident of Vehari, suffered a tragic event. He got his right leg stuck in a grass-cutting machine while working. He was rushed to the hospital. The doctors tried their best to save his leg but they could not. Unfortunately, his right leg was amputated above the knee level. 
Abdul Razzaq's life has taken a tragic turn since then. Due to financial constraints, his family has been struggling. Razzaq contacted us and requested us to provide him with a prosthetic leg. Razzaq shared his sorrow with Transparent Hands in the following words:
"I work as much as I can to feed our children, but we are still struggling to make ends meet. I am also suffering emotionally and physically. Affording an artificial leg without help from someone is out of the question for me. Whoever is reading this, please help me."
Razzaq works as a factory worker and barely manages to provide for his family. They are a family of three and live in a rented house. This prosthesis is crucial for Abdul Razzaq's physical and emotional well-being.
Now that Razzaq has been registered with Transparent Hands, we are determined to provide him with an artificial leg as soon as we can. However, we can only do so with your generous support. Help this young man get his life back by donating generously. He has placed his hopes in your hands. We request you to donate for Razzaq's leg prosthesis to make a lasting difference in his life. 
---
Disclaimer: Transparent Hands makes sure that all the patients get surgery in time. If a patient requires urgent surgery and his/her condition is serious, Transparent Hands conducts the surgery immediately. In the meantime, his/her campaign stays active on the website until we raise the complete funding. The hospitals on our panel have complete trust in us and wait for the payments until the patient's funding is completed.

---

---

---