Donate for Suleman's Laminectomy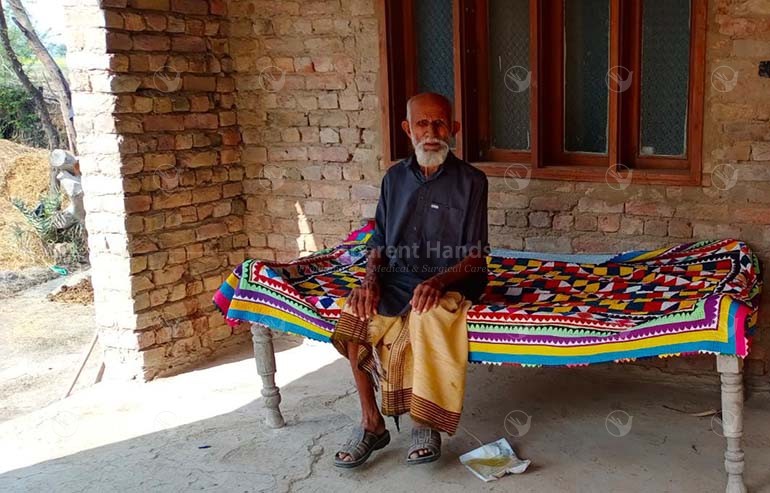 Suleman Haji Abdullah's Story
Suleman has been suffering from a great deal of pain due to a spinal tumor for the last two months. This disease has made life unbearable for the octogenarian. He is in dire need of your help right now. Donate for Suleman's Laminectomy without any delay to help us relieve his agonizing pain.
A couple of months ago, Suleman, an 80-year-old resident of Badin, felt a severe backache associated with urinary retention, loss of appetite, and constipation. He went to the doctor and after some X-rays and an MRI scan of the lower back. The doctor diagnosed him with a spinal tumor. A spinal tumor is an abnormal mass of tissue within or surrounding the spinal column. The neurosurgeon, therefore, advised him to undergo Laminectomy. In Laminectomy, the surgeon removes a part of the vertebral bones and relieves the pressure on the spinal cord. This surgery is done to decompress the nerves, relieve pain, and help bring back mobility.
Suleman hardly manages to earn PKR 12,000 per month. He has a family of 10 members to support. With this meager income, he barely manages to put food on the table. Under these circumstances, he cannot afford an expensive surgery.
"It is a very hard time for me and my family. Even if I save money for my whole life, I would still not be able to pay for my surgery. I knew old age would be difficult, but I never thought it would be this hard. I have my hopes tied with Transparent Hands."  -Suleman
After registering his case with Transparent Hands, Suleman is looking forward to your help. We urge you to donate for Suleman's Laminectomy. Support him as much as you can so he can continue to do his daily chores and feed his family.
---
Disclaimer: Transparent Hands makes sure that all the patients get surgery in time. If a patient requires urgent surgery and his/her condition is serious, Transparent Hands conducts the surgery immediately. In the meantime, his/her campaign stays active on the website until we raise the complete funding. The hospitals on our panel have complete trust in us and wait for the payments until the patient's funding is completed.

---

---

---

---

---

---

---

---

---