Muftah Hashim's Hip Replacement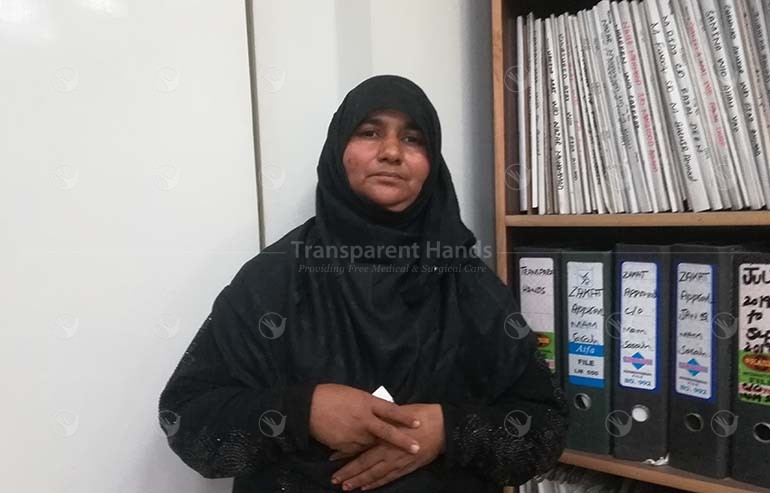 Muftah Hashim's Story
Muftah can't walk properly and has been enduring immense pain. She is in need of surgery but she cannot afford to pay for it. Your donations can get her back on her feet. So, donate generously for Muftah Hashim's Hip Replacement and help her walk again. 
Muftah Hasim, a 49-year-old resident of Bahawalpur, was suffering from osteoarthritis of her hip joints. It was causing extreme pain in her hip joints. She went to the doctor for her checkup and the doctor diagnosed her with Avascular Necrosis (AVN). Avascular Necrosis is the death of bone tissue caused by the lack of blood supply. AVN if left untreated, the bone can collapse. 
The orthopedic surgeon advised her to undergo uncemented Total Hip Replacement (THR). In Total Hip Replacement surgery, the hip joint is replaced by a prosthetic implant.
Total hip replacement is the only treatment for her but it is also a costly surgery and she is unable to pay for it. Her husband is a retired government servant with a monthly pension of PKR 40,000.
He is the sole earner in the family, so he hardly manages to put food on the table. He cannot afford his wife's surgery. Muftah told us:
"Our household runs on my husband's pension. In these times when the inflation rate is touching the roof, how can he manage to afford such an expensive surgery? I had lost all hope till a friend told me about Transparent Hands. Please help me as soon as you can."
After a lot of distress, Muftah has requested Transparent Hands for help. We have assured her that we will arrange her surgery. Now, all we need is your support and generous donations. We urge you to donate for Muftah Hashim's hip replacement without any delay to ease her pain.
---
Disclaimer: Transparent Hands makes sure that all the patients get surgery in time. If a patient requires urgent surgery and his/her condition is serious, Transparent Hands conducts the surgery immediately. In the meantime, his/her campaign stays active on the website until we raise the complete funding. The hospitals on our panel have complete trust in us and wait for the payments until the patient's funding is completed.

---

---

---

---

---