Support Aaiza's Cochlear Implant Surgery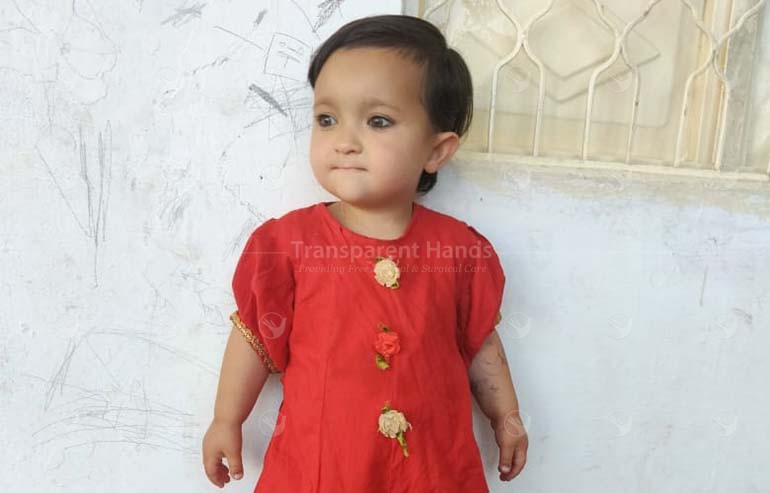 Aaiza Khan's Story
Aaiza is an innocent girl with a lovely name who, sadly, has never heard it. She has had a congenital hearing impairment since she was born. She cannot hear anything.  We request you to support Aaiza's Cochlear Implant surgery as her parents have placed their hopes in your hands. You can make this little girl's dreams come true. 
Three-year-old Aaiza Khan, a resident of Nowshera, has been suffering from sensorineural hearing loss since birth. Her condition went unnoticed by her parents at first. When she was a year old, her parents took her to the hospital because she wasn't responding to loud noises. Aaiza's doctor advised her to obtain a hearing aid, but her parents were unable to afford it. As a long-term option, the doctor has advised that Aaiza needs to undergo a cochlear implant surgery, which is even more expensive.
Aaiza can have a modified sense of hearing with a medically inserted neuroprosthetic device. Unfortunately, Aaiza's parents cannot afford to pay for the expensive Cochlear Implant surgery. Aaiza's father works as a salesman and earns about PKR 25,000 a month. With a family of seven and all of them depending on Aaiza's father for their needs, it is next to impossible for him to pay for his daughter's surgery. Aaiza's father shared his distress with us:
"Now is the ideal time for Aaiza to get this cochlear implant so that she can develop the sense of hearing early and lead a normal life. But, unfortunately, I am not in a financial position to pay for this surgery. Please help my daughter. I will never stop praying for you."
Aaiza's parents have registered her case with Transparent Hands and we are determined to help her. However, it will not be possible without your generous support. We request you to support Aaiza's Cochlear Implant surgery as much as you can. 
---
Disclaimer: Transparent Hands makes sure that all the patients get surgery in time. If a patient requires urgent surgery and his/her condition is serious, Transparent Hands conducts the surgery immediately. In the meantime, his/her campaign stays active on the website until we raise the complete funding. The hospitals on our panel have complete trust in us and wait for the payments until the patient's funding is completed.

---

---
---
---