Support Hasnain's Cochlear Implant Surgery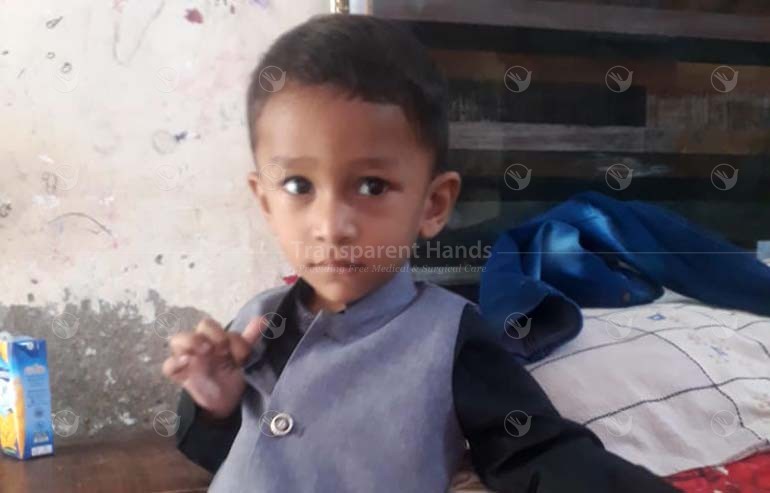 Hasnain Bader's Story
Hasnain Bader watches cluelessly when his parents are talking. He tries hard to express himself. He has never heard his own name. Hasnain has never heard even the voices of his parents or friends. He suffers from Sensorineural hearing loss. He was born with a disability, but you can help him overcome it. Please support Hasnain's cochlear implant surgery. Your generosity will change his life and help him lead a normal life.
Four-year-old Hasnain Bader, a resident of Mandi Bahauddin, was born without the ability to hear. His parents were completely clueless about his condition until he was old enough to respond to sounds. He was referred to a specialist in otolaryngology (ear, nose, and throat). The doctor ran many tests to diagnose Hasnain. When the reports came out, Hasnain was diagnosed with Sensorineural Hearing Loss. At first, the doctor recommended that Hasnain should get a hearing aid, but his parents couldn't afford it. Hasnain's parents took him to a doctor again when his hearing abilities failed to develop after a period of time. Hasnain's physician advised him to obtain a Cochlear implant. With this medically implanted neuroprosthetic, Hasnain's hearing can be corrected.
But sadly, Hasnain's family cannot afford the hefty cost of this procedure. His father works as a salesman and has a family of five to support, including four children. It is impossible for him to pay for his son's Cochlear Implant. Hasnain's father shared his distress with us in the following manner:
"Sometimes he keeps crying for something, but he's unable to tell us what he wants. That is when it hurts us the most. I cannot bear to see my son in this state of helplessness. If you're reading this, please help us."
We have registered Hasnain's case and we are determined to provide him with a cochlear implant. But it will only be possible with your generous donations. Therefore, we request you to support Hasnain's cochlear implant surgery.
---
Disclaimer: Transparent Hands makes sure that all the patients get surgery in time. If a patient requires urgent surgery and his/her condition is serious, Transparent Hands conducts the surgery immediately. In the meantime, his/her campaign stays active on the website until we raise the complete funding. The hospitals on our panel have complete trust in us and wait for the payments until the patient's funding is completed.

---
---

---