Support Saadat's Knee Replacement Surgery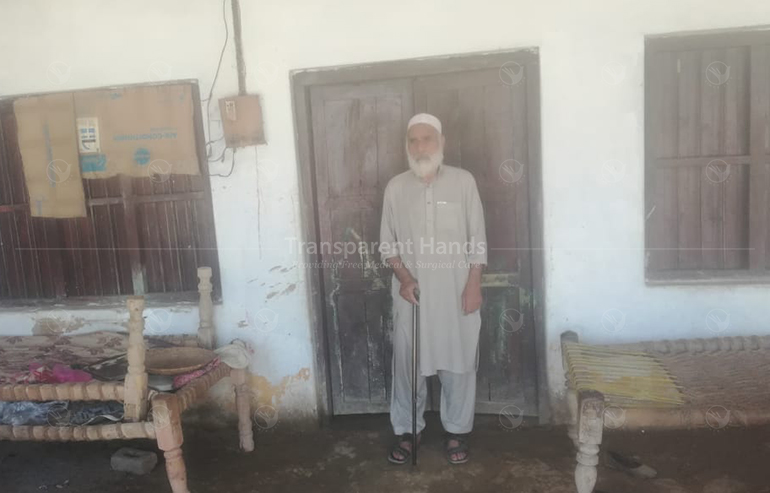 Saadat Khan's Story
Saadat Khan has been suffering from pain and swelling in his knee for many years and it is becoming unbearable now. Surgery is the only cure for his condition, but he cannot afford it due to financial constraints. Your donation, no matter how small or big it is, will put Saadat on the path to recovery. You can help him stand up and walk independently. Therefore, we request you to support Saadat's knee replacement surgery as much as you can. 
Saadat Khan, a 70-year-old resident of Mardan, suffers from severe Osteoarthritis in his right knee. Osteoarthritis is the most common type of arthritis, which affects millions of people around the world. 
He was given symptomatic treatment initially. However, it did not bring him relief, and with the passage of time, he started experiencing more pain and swelling due to which he is unable to walk. 
Upon another consultation and after running some diagnostic tests, the doctor advised Saadat to undergo total right knee replacement surgery. Unfortunately, Saadat Khan cannot afford the hefty cost of the surgery. Due to his old age and deteriorating health, Saadat Khan cannot work. Therefore, he is financially dependent on his son who works as a laborer and hardly manages to earn PKR 25000 per month. He told us:
"My father winces with pain every day, but I cannot do anything due to financial constraints. I just watch him helplessly and it really breaks my heart."
After a lot of distress, Saadat Khan's family reached out to Transparent Hands and we have registered his case. We have assured them that he will be provided with the treatment he needs. However, we cannot arrange Saadat's surgery without your help. We urge you to support Saadat's knee replacement surgery and make his old age easier. You can bring relief to his life with a small donation. 
---
Disclaimer: Transparent Hands makes sure that all the patients get surgery in time. If a patient requires urgent surgery and his/her condition is serious, Transparent Hands conducts the surgery immediately. In the meantime, his/her campaign stays active on the website until we raise the complete funding. The hospitals on our panel have complete trust in us and wait for the payments until the patient's funding is completed.
Be the first one to support .