Support Tanzeela's Cochlear Implant Surgery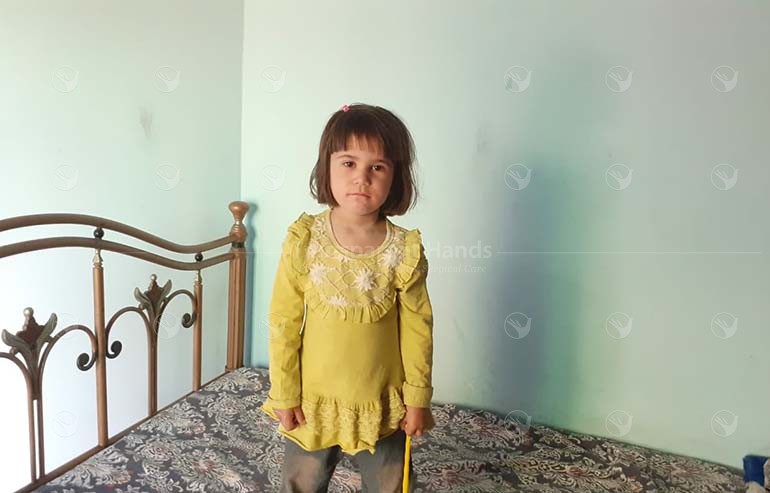 Tanzeela Taj Muhammad's Story
Tanzeela is a stranger to all the sounds in the world. She was born with hearing loss and hasn't even heard her own name. Only your donations can help her overcome this condition. Please support Tanzeela's Cochlear Implant surgery and help her lead a normal life like all the other girls her age.
Four-year-old Tanzeela, a resident of Lahore, has been suffering from hearing loss since birth. Her parents came to know about her disability one year after her birth. Her parents took her to the hospital. After several tests, the doctor diagnosed her with sensorineural hearing loss. Sensorineural hearing loss, or SNHL, happens when there is an inner ear defect or the nerve pathways from inner ear to the brain are affected. The doctor advised her parents to get her a cochlear implant. A cochlear implant surgery is the only permanent cure for her hearing loss. A cochlear implant is a surgically implanted neuroprosthetic device that will give Tanzeela a modified sense of sound. 
Unfortunately, Tanzeela's father cannot pay for this surgery due to financial constraints. Her father is the sole earner in the family. He barely earns PKR 25,000 per month. With this meager income and a family of eight members to support, paying for this treatment is out of the question for him. Tanzeela's father shared his distress with us in the following words:
"She has never heard my voice. She doesn't speak and I hope she talks with us one day. My heart aches when I see her just standing without a clue when we are talking. She finds it difficult to play with other children. I just want the best for her. I want her to play, study, and live like all the other girls her age."
After a lot of distress, Tanzeela's parents have registered her case with Transparent Hands. We are determined to acquaint her with the world of sounds. But, we need your help with that. We urge you to please support Tanzeela's cochlear implant surgery.
---
Disclaimer: Transparent Hands makes sure that all the patients get surgery in time. If a patient requires urgent surgery and his/her condition is serious, Transparent Hands conducts the surgery immediately. In the meantime, his/her campaign stays active on the website until we raise the complete funding. The hospitals on our panel have complete trust in us and wait for the payments until the patient's funding is completed.

---

---

---

---
---

---

---

---

---

---

---

---

---

---

---

---