Featured Articles on Kotri Medical Camp, Sindh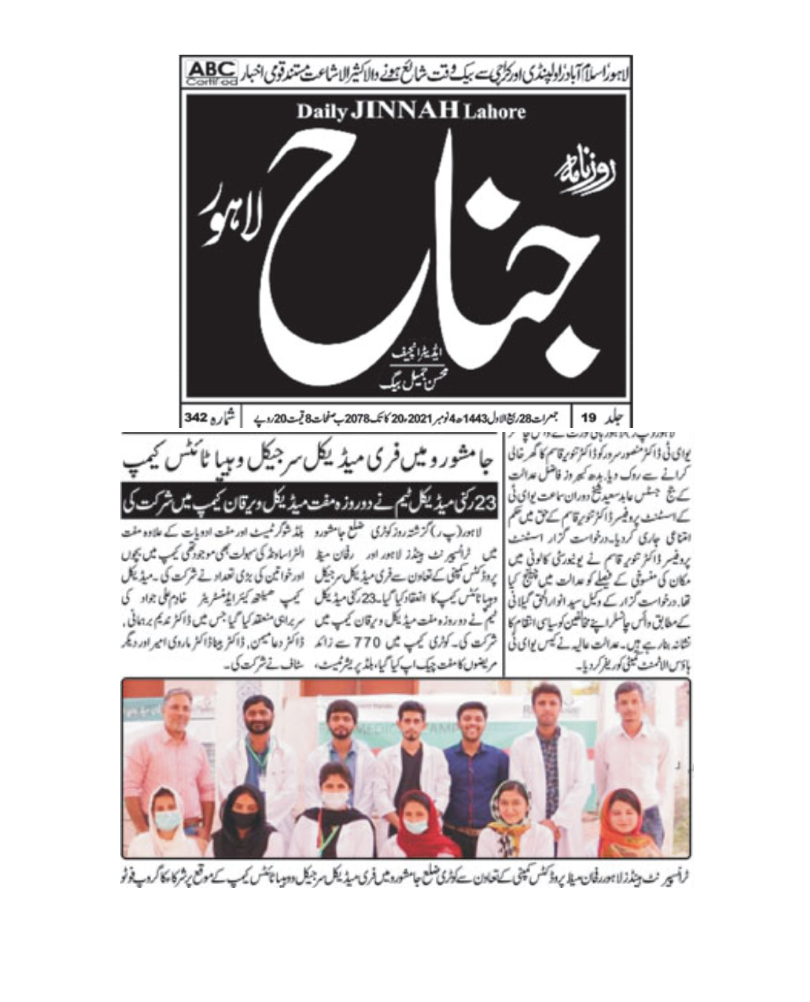 On 4th November 2021, Daily Jinnah Lahore, Mashriq, City News, Roznama Aftab,  Daily Pakistan Lahore, Daily City 42, Jahan Pakistan Lahore and Daily Ausaf, published articles on Kotri Medical Camp. Transparent Hands organized and managed a two-day free Medical and Surgical camp at Government Girls Primary School Qadan Shoro Goth UC Allah Bachayo, Kotri on 23th and 24th of October 2021 respectively. The camps were set up for the underprivileged people residing in the said locality. These camps were organized and managed by Transparent Hands under the Corporate Social Responsibility Program of Rafhan Maize Products, Kotri. The camp team consisted of twenty three members including one supervisor, four doctors (one male and three female), two pharmacists, one lab technician, four patient registrars, two female nurses, one photographer, and eight crew workers. 
All COVID SOPs were followed by the camp team. Patients and all other attendees were encouraged to wear face masks and use hand sanitisers. Testing facilities for Hepatitis B and C, blood sugar level and blood pressure was provided. Facility of ultrasound was provided to 32 patients. An awareness session on general and female hygiene was also carried out. 
In total, 772 patients turned up in the respective camps out which 730 were only women and children. Majority of the cases examined by the doctors consisted of patients suffering from stomach issues, joints and muscular pains, and various types of allergies. Free, appropriate medication was provided to such patients. One surgical case was found and has been registered with us for treatment. Further medical care shall be provided to the said registered patient in our Panel Hospital in Hyderabad. 
Team Transparent Hands, extends gratitude to all the honorable donors, especially Rafhan Maize Products Company Ltd., for assisting us in achieving our goals to hold a medical and surgical camp at Government Girls Primary School Qadan Shoro Goth UC Allah Bachayo, Kotri. In future, we look forward to organizing such camps where we can be of service to the underprivileged patients in Pakistan and facilitate them with health-care as we believe health-care to be a primary, and basic right of all human beings. We also thank all the newspapers for featuring articles on Kotri Medical Camp.