All You Need to Know About Zigron Cricket Fiesta 4 2019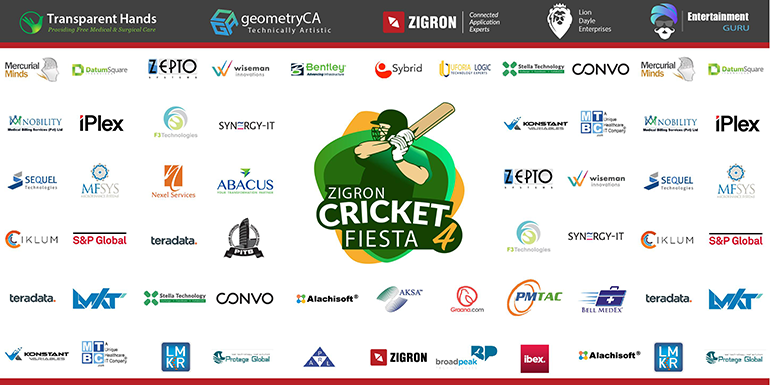 The 4th Cricket Fiesta 2019 was organized by Transparent Hands and Zigron Pakistan (Pvt) Ltd. continues in full swing with matches being played in Lahore and Islamabad. As the cricket battle of IT companies has spilled out from the boardrooms onto the cricket field, we can already feel the heat among the teams challenging one another for the faceoff and expressing their open will to knock each other out to win the trophy.
The tournament which kicked-off on 23rd February 2019 in both cities saw thrilling matches between IT teams which competed fiercely to reach next round. The main sponsors of the Zigron Cricket Fiesta are GeometryCa & Lion Dayle Enterprises. "Entertainment Guru" is the official media partner of this tournament. 
ZCF4 2019 comprises of 36 teams from IT industry of both the cities which include tech pioneers such as follows:
Punjab Information Technology Board (PITB)

Abacus Consulting

Nexel Services

Convo

Alachisoft

Bentley Systems

IPLEX pvt

Sybrid (Pvt) Ltd

LMKT

PMTAC (Pvt) Ltd

Stella Technology SMC PVT LTD

MTBC

BellMedEx

Nobility MBS

Synergy-IT

Teradata

Zepto Systems Ltd

F3 Technologies

Uforia Logic

Protege Global

S&P Global Market Intelligence

Wiseman Innovations

AKSA-SDS

Datumsquare IT services

MFSYS Software and Systems Pvt.Ltd

Konstant Variables

PRAL

Broadpeak Technologies

Mercurial Minds Pvt Ltd

IBEX Global (TRG)

Ciklum

LMKR

Graana Group of Companies

Sequel Technologies (PVT) Ltd

Zigron

Transparent Hands
Zigron and its social and welfare partner Transparent Hands believe that healthy minds and bodies lead to increased productivity specifically in the IT sector where employees hardly get their time off computers. The tournament provides an excellent platform for tech companies to come together and engage with each other which doesn't only boost their morale but also enhances teamwork and productivity.
For more updates, don't forget to check our pages!