Pakistan Centre for Philanthropy Certifies Transparent Hands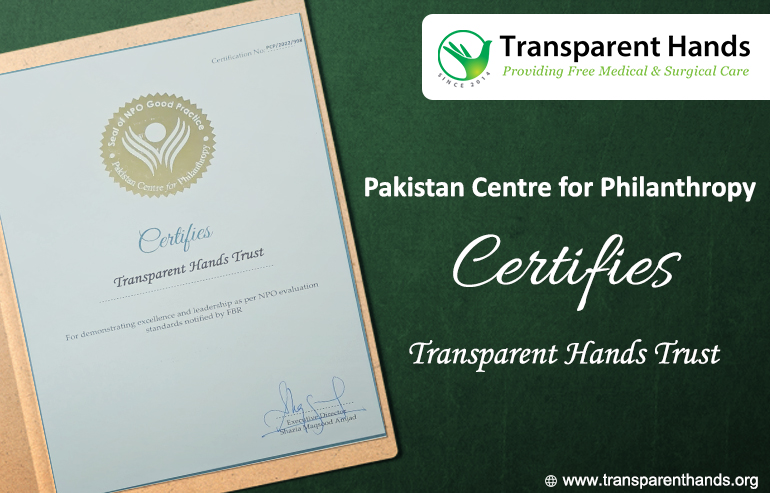 Transparent Hands Trust has been awarded the NPO Certification by Pakistan Centre for Philanthropy (PCP). This certification is awarded to non-profit organizations that demonstrate excellence and leadership as per NPO evaluation standards notified by FBR. 
Pakistan Centre for Philanthropy is the country's first NPO Certification Agency. Only non-profit organizations that meet the standards set by the PCP Certification Program are accredited. The evaluation of non-profit organizations is based on their performance and functioning over the last three years. It includes parameters such as compliance with tax laws, financial management, and program delivery. With this certification, Transparent Hands has joined the network of more than 3000 PCP-certified organizations in Pakistan.
Since 2014, Transparent Hands has been working to champion the cause of making free surgical and medical care available to the underprivileged while ensuring complete transparency. The organization's exponential growth over the years stands as a testament to our credibility among donors, sponsors, and other stakeholders. The PCP Certification will further strengthen the bond of trust between Transparent Hands and all those who support our mission. 
Transparent Hands has received several certifications, accreditations, and awards for its commitment to the highest standards of health care. We urge you to increase your support for this noble cause and help us save more lives all across Pakistan.