PITB Defeated Abacus Consulting to Clutch the Winning Title 'Lahore Sikandars' at the Zigron Cricket Fiesta 4 2019 LAHORE Final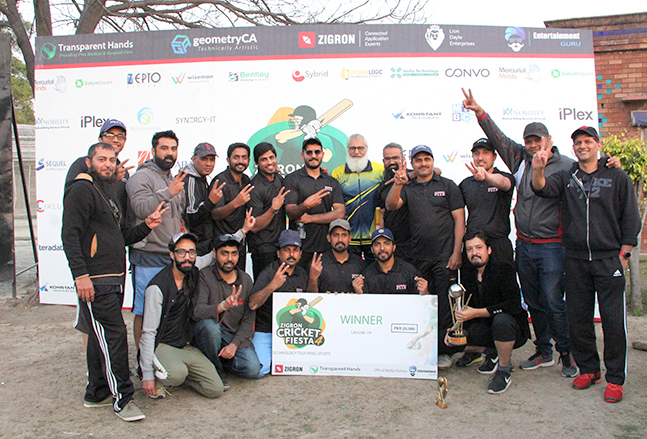 Zigron Cricket Fiesta 4 2019 Lahore came to an end with Punjab Information Technology Board (PITB) winning the title of "LAHORE SIKANDARS". In spite of a strong power play by the team of Abacus Consulting, PITB team easily chased the target given by them owing to Mohsin Javed's amazing performance.


The winning team was awarded with a trophy and cash prize. Mohsin Javed – Captain Punjab Information Technology Board (PITB) won the "Best Player of the Tournament" award, Mr. Usman Butt from Abacus Consulting won "Best Batsman of the Tournament" award and Mr. Amjad Ali from NEXEL Services was declared the "Best Bowler of the Tournament".
Zigron Pakistan (Pvt) Ltd. & Transparent Hands organized this tournament in Lahore and Islamabad with the immense support of its co-sponsor 'Lion Dayle Enterprises', media partner 'Entertainment Guru' and advertising agency 'GeometryCa'.
All the organizers, interns and volunteers have put great efforts and dedication into this tournament including Chaudhary Sohaib Manzoor (Captain Transparent Hands Team), Madiha Khadim, Waqas Ali, Raheel Abbas, Noorain Afzal, Aftab Khan and Moeed Asad. The team put a lot of effort in pulling off such an enjoyable tournament.
Special thanks to the Chief Guest Mr. Mohsin Kamal – Ex Test Cricketer Pakistan Team (1984 to 1994), ex-coach of Bangladesh Cricket Team, ex-coach of Bahrain Cricket Team and currently serving as a Bowling Coach of National Cricket Academy, Lahore for honoring us with your presence at the closing ceremony of ZCF4 2019 Lahore.

The tournament provided a great networking opportunity to the IT teams in Lahore and Islamabad. Transparent Hands is looking forward to organizing the next tournament not only in Lahore and Islamabad but also in Karachi with the support of its corporate partner Zigron Pakistan Pvt Ltd.