Transparent Hands Signs an MoU of Collaboration with Confiz Limited to Provide Free Healthcare to the Poor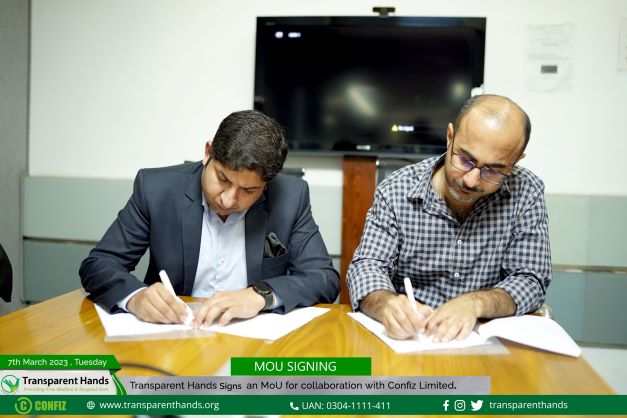 Transparent Hands has signed an MoU with Confiz Limited, a leading technology firm, to collaborate on providing high-end healthcare facilities to underprivileged communities in Pakistan. The MoU was signed by the representatives of both organizations at a ceremony held on March 7, 2023.
Under the agreement, Confiz Limited has committed to donating to Transparent Hands and supporting the organization in its efforts to provide quality healthcare to the poor and needy in Pakistan. This collaboration is a step towards the fulfillment of the vision of both organizations to provide access to high-end medical facilities to those who cannot afford them.
The representatives of both organizations expressed their commitment to work together to ensure that the underprivileged communities of Pakistan receive the necessary medical care and support they deserve. They also pledged to continue exploring new avenues of collaboration that will enable them to serve the people of Pakistan more effectively.
Transparent Hands appreciates Confiz Limited's contribution to its mission and looks forward to a long-lasting and fruitful partnership with the technology firm.