Transparent Hands and the University of Central Punjab Sign MOU to Mobilize Youth for Improved Healthcare Access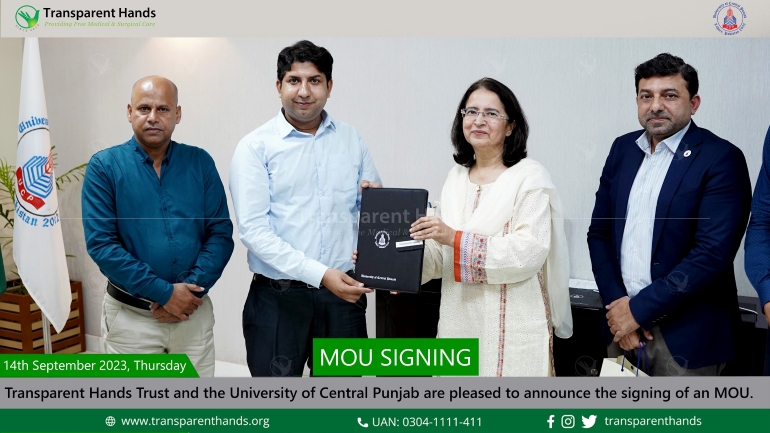 Transparent Hands and the University of Central Punjab Sign MOU to Mobilize Youth for Improved Healthcare Access
Transparent Hands, a leading nonprofit organization providing free medical treatment to the poor and underprivileged in Pakistan, is pleased to announce a new partnership with the University of Central Punjab (UCP). On September 14, 2023, the two organizations signed a Memorandum of Understanding (MOU) to mobilize the youth of Pakistan in the pursuit of improving healthcare access for all.
The MOU was signed by Raheel Abbas, Director of Transparent Hands; Faysal Hameed, Business Development Manager of Transparent Hands; Hadia Awan, Prorector of UCP; and Hammad Ur Rehman, Deputy Director of Volunteers in Service Department, UCP.
The partnership will allow UCP students to work closely with Transparent Hands in various capacities, including volunteer work, marketing, and administrative tasks. The volunteers from UCP will assist us in our marketing & fundraising activities to help us continue our mission to provide quality surgical and medical care to underprivileged patients in Pakistan.
"I am thrilled to see such a strong interest in social causes among the students. By engaging and mobilizing the youth, we can build a more aware, responsible, and supportive society. I am grateful to Dr. Hadia Awan for her proactive engagement with Transparent Hands. I wish all the best to the students who will be working with us, and I hope they learn that even a small contribution to a cause can make a big difference." – Raheel Abbas, Director, Transparent Hands
This synergistic opportunity will enable them to contribute their skills and expertise to the organization while also gaining practical experience in the non-profit sector.
Since 2014, Transparent Hands has been working tirelessly to provide free surgeries and organize free medical camps. With its partnership with the University of Central Punjab, Transparent Hands aims to spread awareness and mobilize the youth further for the common goal of making quality healthcare accessible for those who need it most.