Transparent Hands and CMA Teaching and Research Hospital Sign an MoU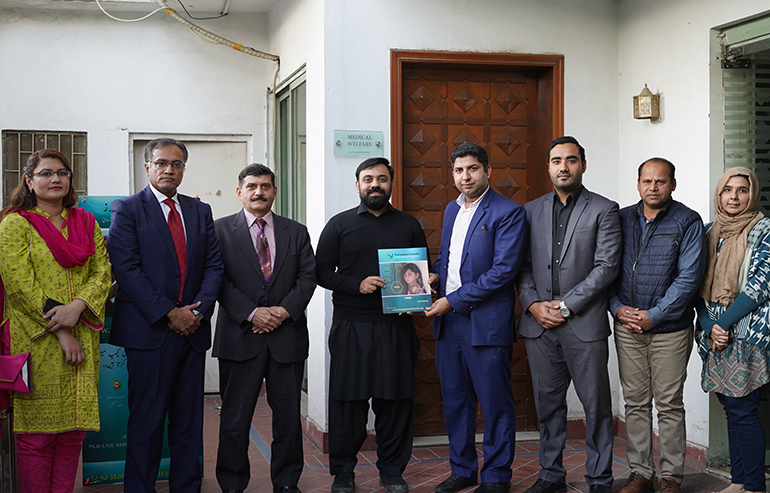 Transparent Hands has proudly entered a partnership with Chaudhry Muhammad Akram Teaching And Research Hospital with the vision to provide free surgeries and medical procedures to deserving patients. Mr. Raheel Abbas (Transparent Hands' Director of Operations) and Mr. Bilal Javed (CEO of Healthcare Projects, CMA Teaching and Research Hospital) signed the memorandum of understanding (MoU) on January 27, 2022. 
The signing ceremony was also attended by other participants from CMA Teaching and Research Hospital, including Mr. Zia Ali Jafar (Director Business Development), Ms. Sehrish Ali (Manager Business Development), Mr. Salman Qureshi (Director Sales), and Prof. Dr. Babar (ENT Department). In addition, Transparent Hands was represented by Mr. Syed Tahseen Haider (Healthcare Administrator), Mr. M. Faysal Hameed (Manager Business Development), and Ms. Ayesha Zahid (Assistant to Director of Operations). 
Under this MoU, both organizations will take steps to bring quality health care to patients belonging to underprivileged communities. Surgeries, medical treatments, and medicines will be provided to deserving patients free of charge. 
Transparent Hands appreciates CMA Teaching and Research Hospital's commitment to this cause and looks forward to more such partnerships to help patients in need of quality health care across Pakistan.