Transparent Hands and Eye on Ivy Sign an MoU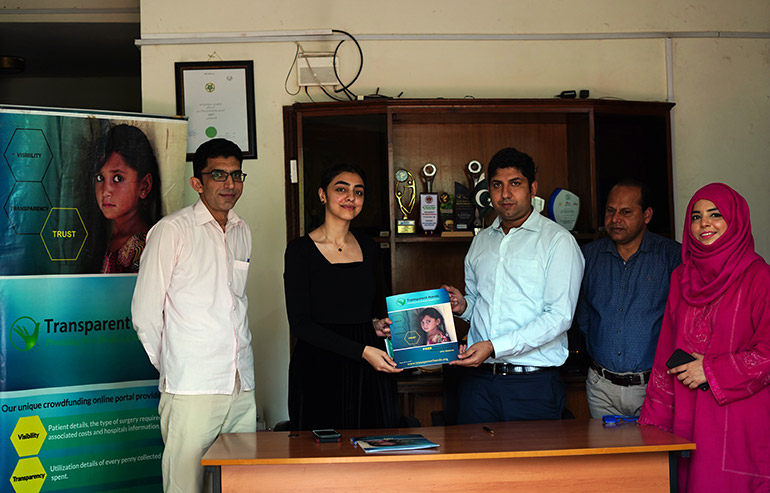 Transparent Hands has proudly entered a partnership with Eye on Ivy to provide free surgical and medical care to patients that cannot afford their treatments in Pakistan. Mr. Raheel Abbas (Transparent Hands' Director of Operations) and Ms. Umey Aimen (Counselor, Eye on Ivy) signed the memorandum of understanding (MoU) on March 14, 2022.
The MoU signing ceremony was also attended by Mr. Ahmad Raza Khan (External Relations and Competitions Manager, Eye on Ivy). In addition, Transparent Hands was represented by Mr. Muhammad Faysal Hameed (Manager Business Development) and Ms. Hina Asif (Fundraising Manager).
Under this MoU, students associated with Eye on Ivy will carry out marketing and fundraising activities for Transparent Hands. With these donations, Transparent Hands aims to continue its mission to provide free surgeries and medical procedures, as well as hold free medical camps in remote areas of the country. Eye on Ivy will also assist Transparent Hands with getting access to private school forums.
As part of this agreement, Transparent Hands plans to provide a supervised internship program to the students associated with Eye on Ivy. The students have been given the responsibility of helping Transparent Hands with raising funds and setting up medical camps. Students who successfully complete the internship program will receive appreciation certificates. 
Transparent Hands appreciates Eye on Ivy's commitment to this noble cause and looks forward to more such partnerships to help deserving patients across Pakistan.