Transparent Hands Signs an MoU with Chughtai Lab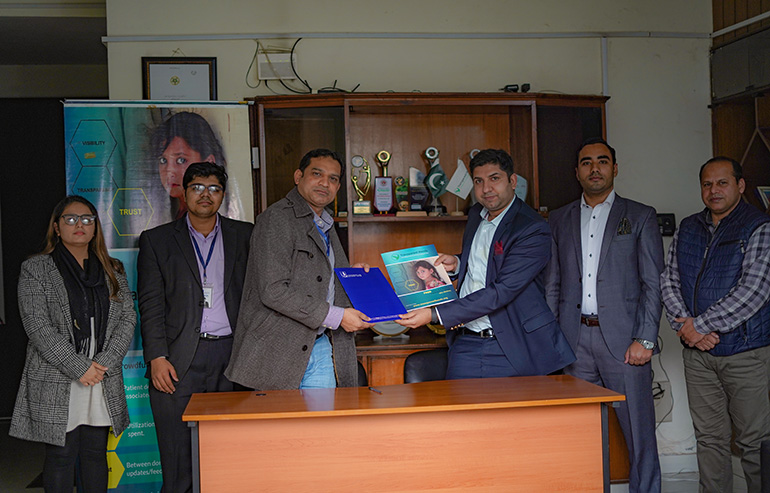 Transparent Hands and Chughtai Lab have proudly joined hands to bring quality diagnostic tests and other healthcare services to deserving patients across Pakistan. Mr. Raheel Abbas (Transparent Hands' Director of Operations) and Mr. Irfan Hafeez (Sr. Manager Corporate Sales, Chughtai Lab) signed the memorandum of understanding (MoU) on January 28, 2022.
The MoU signing ceremony was also attended by other representatives from Chughtai Lab, including Ms. Khadija Abid (Corporate Sales Executive) and Mr. Mutahhar Iqbal (Corporate Sales Executive). In addition, Transparent Hands was represented by Mr. Syed Tahseen Haider (Healthcare Administrator) and Mr. Muhammad Faysal Hameed (Manager Business Development). 
Under this MoU, Chughtai Lab will provide a discount on general lab tests to Transparent Hands' patients. A 30% discount on various tests, including CBC, Hbsag Screening, Anti HCV, BSR, LFT's, RFT's, Urine Complete, Chest X-Ray, COVID PCR, ECG, Blood Grouping, Ultrasound, Blood Cross, will be given to patients referred by Transparent Hands. Since quality diagnostic tests play a large role in the treatment of patients, this MoU will help Transparent Hands with achieving even higher targets.  
Transparent Hands appreciates Chughtai Lab's commitment to this cause and looks forward to more such partnerships to help deserving patients across the country.