Transparent Hands Signs MoU with Inspire Pakistan to Expand Free Healthcare Services for Needy Patients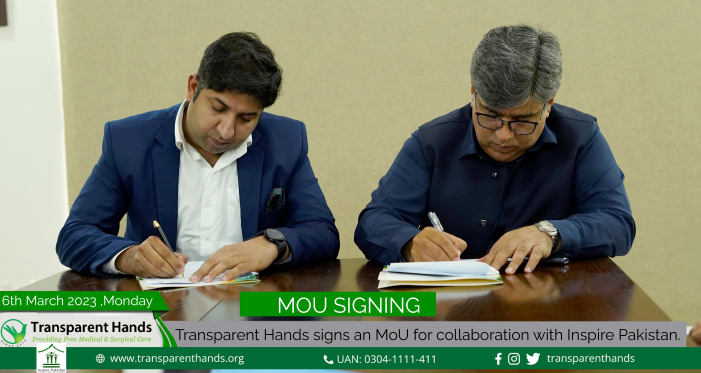 Transparent Hands has announced a partnership with Inspire Pakistan, one of the leading NGOs in the country, to expand access to top-quality healthcare for those in need. The memorandum of understanding (MoU) was signed between the two organizations in a ceremony held in Lahore, Pakistan, on March 6, 2023. The agreement will see Transparent Hands and Inspire Pakistan work closely together to provide free medical treatments and surgeries to deserving patients across the country.
Under the MoU, Inspire Pakistan will provide Transparent Hands with financial support and resources to help expand the organization's healthcare services. This will include the provision of medical equipment, medicine, and other resources needed to provide quality healthcare services to the poorest and most vulnerable members of Pakistani society.
Speaking on the occasion, the Director of Operations at Transparent Hands, Mr. Raheel Abbas, expressed his delight at the partnership with Inspire Pakistan. "We are thrilled to be partnering with Inspire Pakistan to expand our free healthcare services for those in need. This partnership will allow us to reach more patients in need and provide them with the care they deserve," he said.
The partnership between Transparent Hands and Inspire Pakistan is a significant step forward in the provision of healthcare services to the underprivileged, poorest, and most vulnerable communities in Pakistan. It is a reflection of both organizations' commitment to improving the lives of those in need and helping to build a brighter future for the country.