Transparent Hands and UMT Join Forces to Serve the Underprivileged Communities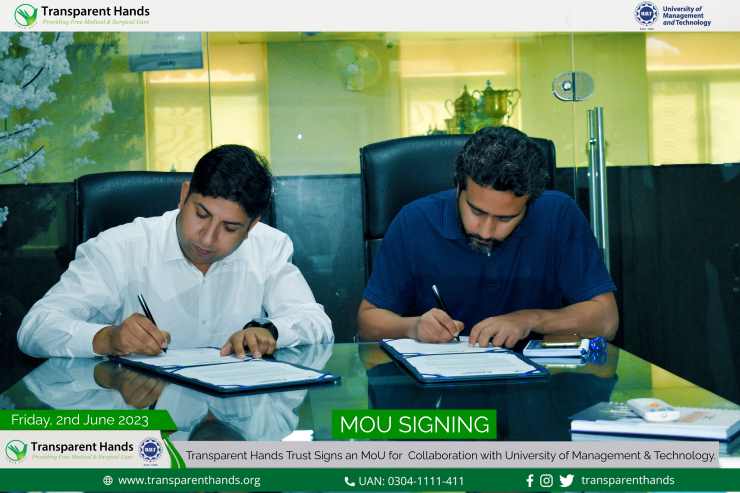 Transparent Hands has signed a Memorandum of Understanding (MoU) with the University of Management and Technology (UMT), solidifying their collaboration in the pursuit of a common goal – improving access to healthcare for the poor and underprivileged in Pakistan.
The MoU, signed on Friday, June 2, 2023, marks a significant milestone in the efforts of Transparent Hands and UMT to join forces and maximize their impact on the healthcare landscape of the country. The agreement signifies UMT's commitment to supporting Transparent Hands in their ongoing initiatives, particularly the organization's medical camps in rural and remote areas.
Under this partnership, UMT has pledged its support by actively donating to Transparent Hands' medical camps. This collaboration will also empower the students to contribute their skills and knowledge towards the betterment of society, while gaining practical experience in delivering healthcare services to those in need.
Mr. Raheel Abbas, the Director of Operations of Transparent Hands, expressed his gratitude for the collaboration, stating, "We are delighted to join hands with the University of Management and Technology in our mission to provide free quality healthcare to the underprivileged. This partnership will greatly enhance our capacity to reach more communities and make a lasting impact on the lives of those who need it the most."
Mr. Ali Mukhtar, Senior Manager (Student Success) at UMT, shared his enthusiasm about the collaboration, saying, "As an institution committed to social responsibility, UMT is proud to partner with Transparent Hands. Through this collaboration, we aim to empower our students to become agents of change by actively participating in initiatives that address healthcare disparities in our society."
This collaboration between Transparent Hands and UMT brings together respective expertise and resources of both organizations, creating a synergistic partnership that will drive positive change in the lives of the underprivileged communities in Pakistan. By leveraging the power of education, healthcare, and volunteerism, both organizations are set to make a significant impact on the overall well-being of those in need.