Transparent Hands & Sportsfever360 launched "HEALTH360" for Sportsmen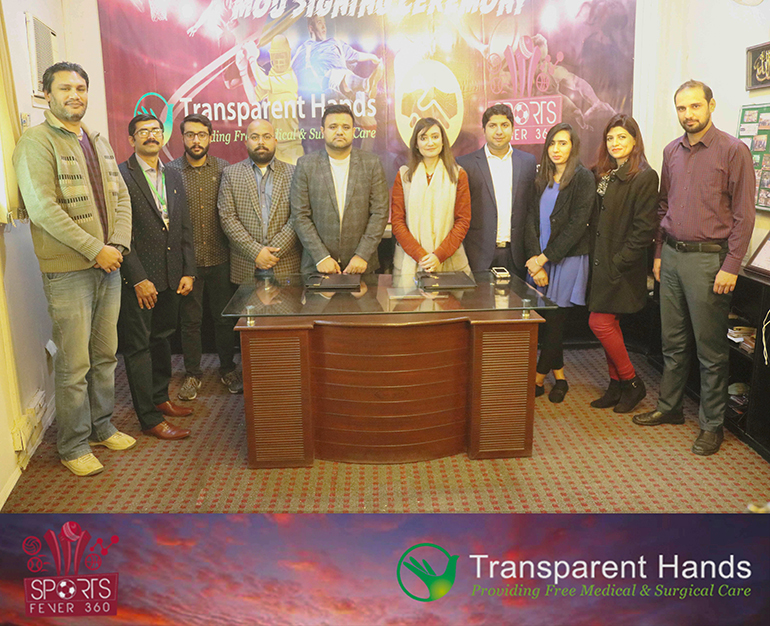 Transparent Hands has always stepped forward when it comes to helping low-income families achieve the best healthcare facilities. This time again, Transparent Hands has collaborated with one of the biggest sports companies of Pakistan SPORTSFEVER360 and launched a first-of-its-kind initiative named "Health360".
Both the organizations signed MOU on 26th December 2018 in Lahore, Pakistan. The MOU was signed by Ms. Rameeza Mueen (CEO) Transparent Hands and Mr. Sohaib Irfan (CEO) Sportsfever360. The main purpose of this collaboration is to provide free healthcare facilities to the needy sportsmen, their families and every other individual who is suffering due to illness across Pakistan.
Sportsfever 360 is a UAE based sport management organization with an international foot-mark committed towards bringing the best opportunities forward and bridging gaps between the corporate world and sports personalities. The organization emerged in 2010 in Pakistan and has now expanded its reach into core locations. Their relentless service to various organizations has enabled them to develop professional Excellency and get hands on experience in all kinds of sports nationally and internationally.
Sportsfever360 has always supported such noble causes and this time again, they are committed to create an impact in the lives of underprivileged sportsmen, their families and every other patient who is in dire need of healthcare.
This exciting collaboration is just the beginning towards helping the deserving community specially sports industry. Both the organizations are determined to achieving many more milestones together for healthier Pakistan!