Press Coverage of Kotri Medical Camp Arranged by Transparent Hands and Rafhan Maize Products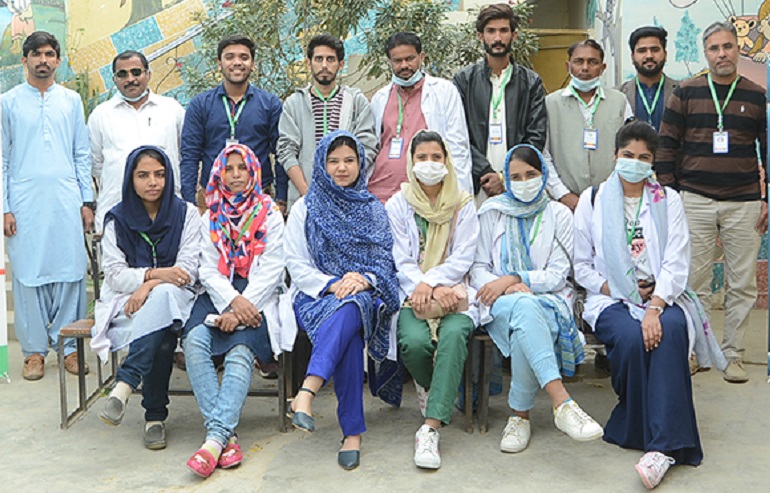 On January 22 and 23, 2022, Transparent Hands joined hands with Rafhan Maize Products to arrange a free two-day medical camp. It was held at City Foundation Public School, Khuda ki Basit, SITE Area, Kotri, Jamshoro, Sindh to bring quality health care to deserving patients. Several prominent newspapers and publications, including Daily Nai Baat, Jahan Pakistan, and Daily 42 covered the medical camp. 
The medical camp team consisted of 25 members, including a supervisor, three doctors (one male and two females), a sonologist, three nurses (one female and two males), three pharmacists, four patient registrars, a photographer, and nine crew workers.
More than 720 patients belonging to underprivileged communities, including a large number of women and children, received free check-ups, including ultrasound scans, as well as blood sugar and blood pressure tests. Free medicines were given to the patients and some of them were registered by Transparent Hands for further surgical or medical treatments. The medical camp was organized and managed by Transparent Hands, and Rafhan Maize Products joined hands with the organization under its Corporate Social Responsibility (CSR) Program.
The medical camp team followed all COVID SOPs such as wearing face masks, hand sanitization, and social distancing. In addition, the patients were provided with face masks and hand sanitizers free of charge. Transparent hands also held an awareness session about hygiene and cleanliness for the patients and attendees.
Most of the patients who sought consultation at the medical camp were suffering from flu, cough, fever, headaches, diabetes, pains, hypertension, gastric problems, and allergies. However, five patients were advised to undergo surgery. We have registered their cases and they will be treated at a panel hospital in Hyderabad. Free medicines were given to a large number of deserving patients. 
This was just the first of the 100 free medical camps Transparent Hands aims to arrange in 2022. Sponsors like Rafhan Maize Products and thousands of donors are supporting Transparent Hands' mission to bring quality health care to even more underprivileged and remote areas across Pakistan.