Best Charities to Donate to in 2022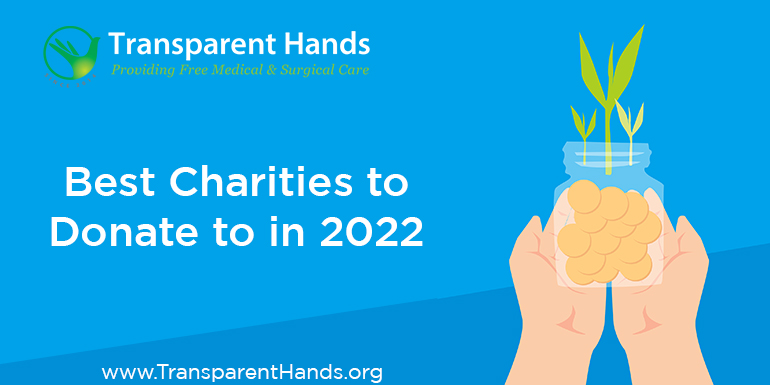 Philanthropy has been practiced for centuries and increased during the COVID-19 pandemic. Charitable donations are a source of survival for many families living below the poverty line. Fortunately, a large number of charitable organizations are working to make life a little better for such families. Some of the best charities to donate to in 2022 include:
Transparent Hands
Transparent Hands is a Lahore-based nonprofit charitable organization that was established with the vision to make health care accessible to marginalized and disadvantaged communities. It was founded in 2014 and has provided free surgical and medical treatments, including major surgeries and chemotherapies, to tens of thousands of patients. The organization also holds medical camps in remote areas of Pakistan to provide free consultations, medicines, awareness sessions, and diagnostic tests to deserving patients.
Transparent Hands has changed and improved the lives of thousands of patients and their families. Patients that were sole breadwinners for the family have gotten their lives back thanks to the timely help by the organization. All the success stories are available on the websites.
The organization does not accept cash donations to ensure transparency. The details of each case are available on the website. You can read patient stories to make an informed decision while donating. 
A Zakat calculator is also available on the website to make it easy for you to give Zakat online. In addition, you can also easily see which patients are eligible for Zakat.
LaunchGood
LaunchGood is an international crowdfunding platform that caters to Muslims all around the world. On average, it raises about USD 2,000 every hour. Any individual with a functional internet connection can set up a campaign on the website.
Each case is verified by the team of the organization and then it goes live. The charity also helps people in war-affected regions as well as those that need medical assistance, educational support, and clean water among other things.  
Shifa Foundation
Shifa Foundation, an Islamabad-based charitable organization, has partnered with a number of organizations to help a spectrum of people. It provides medical treatments, clean water supply, food to daily wagers, and education to deserving individuals. The foundation has a state-of-the-art hospital named Shifa International Hospital under its umbrella. The hospital has a clinic dedicated to economically marginalized patients where they can get free check-ups and medicines. Liver and Kidney transplants funded by the foundation are also carried out in the same facility. The organization also assists in the chemotherapies of cancer patients. 
Edhi Foundation
Edhi Foundation was established by Abdul Sattar Edhi – a name synonymous with philanthropy all around the world. Although the organization supports a wide spectrum of cases, it is known for its ambulance service and orphanages. Edhi ambulance service has saved thousands of lives over the years. Thousands of children are growing up in the Edhi orphanages. These facilities are present in all major cities of Pakistan and provide safety, meals, and education to these children. You can help these children by funding their education, providing them with rations, and sponsoring medical treatments for those in need.
Edhi foundation has also helped the people in Palestine and Kashmir. The organization releases annual audit reports online to ensure transparency and build trust.   
Akhuwat Foundation
Akhuwat Foundation has taken up the noble cause of alleviating poverty in Pakistan. The organization is doing so by lending interest-free loans to struggling families to help set up small businesses. These small businesses have made many families independent and financially self-sufficient. So far, 140 billion rupees have been disbursed in the form of these loans.
Akhuwat Foundation has also taken 301 schools and 3 colleges under its wings where thousands of deserving children receive free education. It also helps the marginalized community of transgenders in Pakistan. The foundation has a program dedicated to this noble cause.
Besides raising funds for education and loans, the organization also helps people with chronic illnesses. Almost 500,000 patients with hepatitis and diabetes have received free medical treatment from the foundation. They also give clothes to needy individuals. Donors can either donate their used clothes or buy new ones to help deserving people.
The foundation ensures transparency by releasing annual financial statements which can be accessed on their website. 
While donating is a fulfilling experience, one must ensure that it goes toward the right cause. So, please donate and help people that are struggling to get treatments, education, and meals. Donate generously to unlock a better future for people belonging to underprivileged communities.