10 Crowdfunding Platforms for Canadians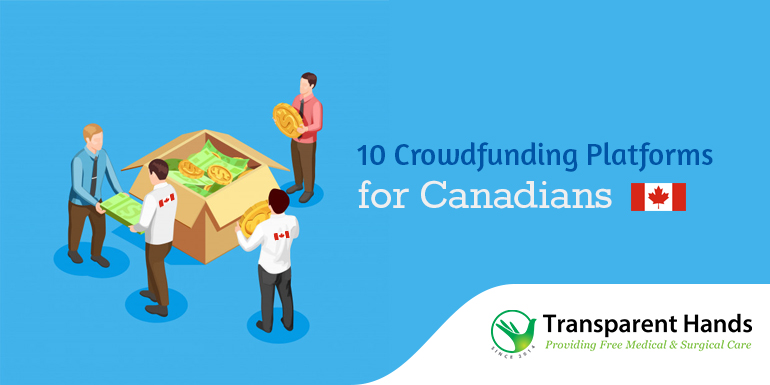 Introduction
Crowdfunding is a revolutionary concept that has shaken the very foundations of traditional fundraising. The traditional fundraising practices are focused on raising funds from one particular source. Compared to that, the crowdfunding method focusses on raising funds from multiple sources. We have got nothing against the individual investments but when a crowd of people is interested in funding what you do, it is a different game altogether. Today, many crowdfunding platforms provide their services for fundraising. In this discussion, we are going to talk about the Canadian crowdfunding platforms and how they have made aspiring entrepreneurs' life easy in Canada. You can use these platforms to raise funds for your start-ups or donate to the causes already visible and active.
1- Kickstarter
Kickstarter and crowdfunding have become synonymous, such as the credibility of this incredible fundraising platform. The platform focusses more on funding creative projects but by no means music or art are its only domains. Increased visibility and quality services make Kickstarter a reputable name in this industry.
2- Indiegogo
The projects funded on Indiegogo mostly reflect creativity and innovation. If you are a passionate artist or a geek who has unearthed an innovative idea, Indiegogo is just the right kind of platform for you. The fees for running charitable campaigns on this platform are minimal.
3-Crowdfunder
Do you know what is more tragic than that scene in Titanic? An entrepreneur and an angel investor unable to set up a meeting because they haven't heard about each other. Canadian crowdfunding platforms like Crowdfunder ensure that such tragedies don't happen often. So far, the platform has funded more than 100 unique projects with the help of investors.
4- GoFundMe
To this date, no bigger crowdfunding platform exists other than GoFundMe. This isn't your average Canadian crowdfunding platform. We are talking about a global institution here! Since it is a famous platform with more traffic than any other competitor, you are likely to raise the required funds in a very short period.
5- Fundable
This is an equity-based fundraising platform that works by exchanging equity for funds. But we must warn you, you will have to come up with a very elaborate business plan before you can start expecting an angel investor.
6- Patreon
If you are a digital content creator, say a You Tuber, for example, this is something that you should check out. For those who are interested in creating a source of recurring revenue, Patreon is the go-to Canadian crowdfunding platform.
7- CrowdCube
Just like Fundable, this is another equity-based crowdfunding platform. So, you can guess what happens here.
8-Quirky
Quirky features a crossover between crowdfunding and creativity. There are no fees that you are supposed to pay. Also, the manufacturing and designing bit is Quirky's headache as well once your project has the platform's approval. Of course, your profits will be not great but hey, you aren't losing much, are you?  
9- FundRazr
Accessibility has to be the most distinguishing feature of this crowdfunding platform. You can send or receive money in 25 different currencies. Plus, it is super easy to receive funds for anyone who is living in Canada as well. You can use PayPal or WePay for this purpose. Those who are contributing to your cause don't have to pay an extra fee.
10- Transparent Hands
When it comes to crowdfunding for health, there is no platform bigger than Transparent Hands in Pakistan. The range of healthcare services offered by Transparent Hands is astoundingly vast. From medical and surgical treatments to medical camps and telehealth facilities, the NGO makes sure that the underprivileged Pakistanis have access to quality healthcare services. The NGO believes in creating a patient-donor bond while making sure that the protocols of transparency aren't breached at any point. The NGO realizes the need for free medical camps in the rural areas, hence it actively sets up such camps as well. To donate, donors can log in to the Transparent Hands crowdfunding web portal from anywhere in the world. Payment modes are one hundred percent secure. Every donor has absolute freedom in selecting and funding patients of their choice. The NGO makes sure that regular updates until complete recovery are sent to the concerned donor.
Conclusion
This comprehensive list of Canadian crowdfunding platforms is far from over. Many other credible crowdfunding platforms are operating in the country as well, some of which entertain global pledges as well as local ones. We wish we could talk a bit more about these rather clever tools of fundraising. Unfortunately, we have run out of space and time but we will be back soon with yet another episode about Canadian crowdfunding platforms.
Read More: How to Calculate Zakat in Canada