Flood Victims Need Our Help to Survive the Cold Winter Season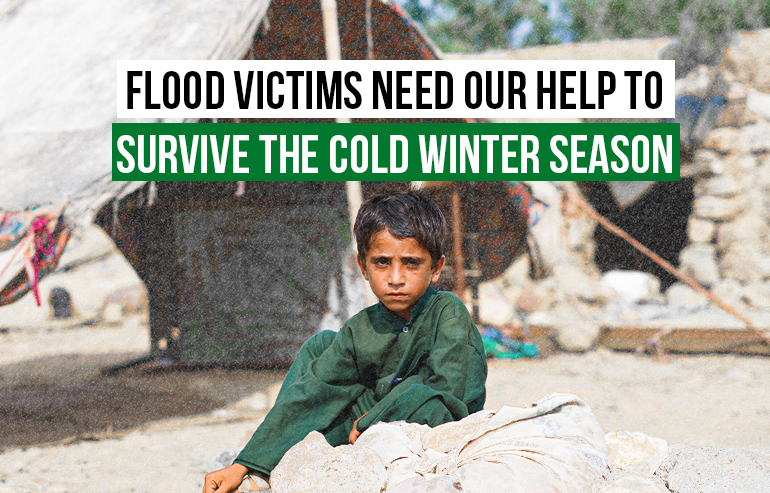 Transparent Hands has been supporting flood victims in Pakistan since September 2022. Our teams have already arranged over 50 flood relief camps in the most impacted areas of Khyber Pakhtunkhwa, Sindh, and South Punjab to help more than 100,000 affectees with free healthcare services and our food and water bottle distribution program. 
As our flood relief activities continue to gain traction, a lot of companies like Packages Foundation, GenITeam Solutions, CopperGat Cables, LUMS, MNM Foods, Atlas Copco, Sporty Enterprises, Sabra Hamida Trust, and Al Amal International Charity are joining hands with us to champion this cause. Find out the details about these Flood Relief Camps
However, thousands of flood-hit families still need our support, and they are likely to face more challenges during the winter months. 
Support Our Winter Flood Relief Program
We are now expanding our ongoing flood relief program to include winter packs, which will consist of quilts, shawls, socks, pillows, and caps, to help thousands survive in the coming winter season. 
Besides this, we will continue to help thousands of flood victims with the following free healthcare services at our camps: 
Free Consultations

Free First Aid:

Bandages

Dressings

Pyodine

Free Medicines: 

Antibiotics

Antimalarial 

Antipyretics 

Analgesics

Anti-inflammatory

Eye Drops

Ear Drops

Multivitamins

General Medicines

Diagnostic tests: 

Free BSR and Blood Pressure Checkups

Free Uric Acid and Typhoid Tests

Hepatitis B & C Screenings
Cost of Winter Packs and Medical Camps 
With your support, we aim to arrange 20 winter flood relief camps in South Punjab, Khyber Pakhtunkhwa, and Sindh. Our team will hand out 100 winter packs at each camp, which means that a total of 2000 winter packs will be distributed among flood-hit families. 
Each winter pack will contain the following items: 
Sr. No
Item Name
Quantity Per Pack
Cost Per Item
1
Large Size Quilt
1
2,500
2
Shawl
1
1,600
3
Socks
3
600
4
Caps
2
600
5
Pillow
2
700
Cost Per Pack
6,000
Total Packs Quantity
2,000
Total Packs Quantity * Cost Per Pack
12,000,000
Transportation & Branding
1,000,000
Total Cost of 2000 Winter Packs:
 PKR 13,000,000/- 
 USD 58,690/- 
 GBP 51,573/- 
Winter flood relief Medical Camps expenses: 
Flood-Effected Areas
Number of Medical Camps
Amount (PKR)
Rajanpur, Punjab
2
700,000
Dera Ghazi Khan, Punjab
1
350,000
Dera Ismail Khan, KPK
2
700,000
Dadu, Sindh
6
2,100,000
Muzafargarh, Punjab
1
350,000
Sehwan Sharif, Sindh
1
350,000
Kandiāro, Sindh
1
350,000
Khairpur, Sindh
3
1,050,000
Kohistan, Sindh
1
350,000
Jacobabad, Sindh
1
350,000
Sanghar, Sindh
1
350,000
Total cost of 20 Medical Camps:
 PKR 7,000,000/- 
 USD 31,603/-  
 GBP 27,770/- 
Total Cost of this Winter Flood Relief Program
Total Cost of this Winter Flood Relief Program
 PKR 20,000,000/- 
 USD 90,293/-  
 GBP 79,343/- 
The total required amount for the winter flood relief program is PKR 20,000,000. We are planning to start our winter flood relief camps in the first week of December 2022. Our team, which includes male and female doctors, nurses, pharmacists, and lab technicians, will carry out these flood relief activities. 
Impact 
Transparent Hands' free medical camps and winter pack distribution program will help over 25,000 affectees in South Punjab, Khyber Pakhtunkhwa, and Sindh. We hope you will play your part in helping flood victims survive and recover from the devastation caused by the floods. Donate to flood victims today!
---

---

---

---

---
---

---
---

---

---

---

---

---

---
---

---

---

---

---

---

---

---

---

---
---

---

---

---

---