Donate Dua Fatima for her Cardiac Surgery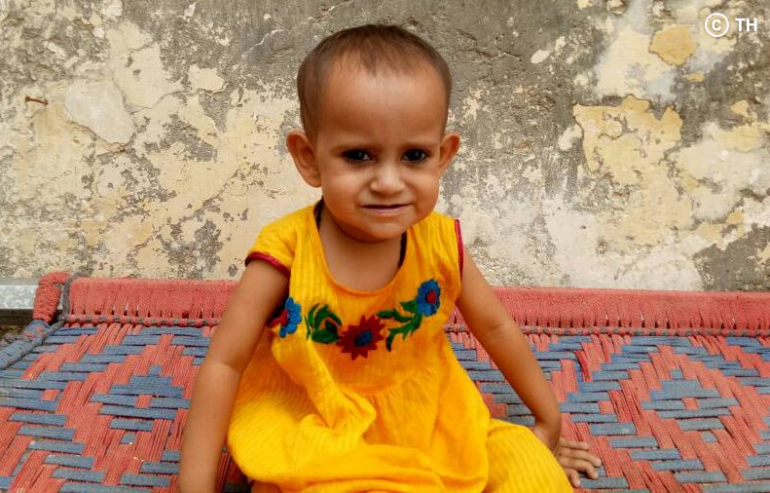 Dua Fatima's Story
Dua Fatima 2 years old girl had Cyanosis and dyspnoea on mild exertion since birth. She was diagnosed with Tetralogy of Fallot and was advised open heart surgery for corrective repair. Her surgery was done in Ittefaq Hospital through Pakistan Children Heart Foundation on 18-07-17 by Dr Salman A Shah. She had good post op recovery and got relief from cyanosis. She was discharged in stable and satisfactory condition.
Read More
Dua Fatima's Story
Your donations and zakat can give a new life to this innocent girl who is fighting with a congenital heart disease.
Dua Fatima is a 2 years old toddler who lives in a small house in Bahawalnagar with her parents and one younger sister who is just 8 months old. Dua loves to play with her younger sister and other kids in her town but unfortunately, since last couple of months she is unable to play much due to her deteriorating health. Dua's father supports their family by working in a small garment shop earning only 350 rupees a day, while her mother looks after the household.
Dua was diagnosed with Tetralogy of fallot (TOF) when she was only five months old. She experienced cyanosis (skin turning blue), difficulty in breathing and weakness. Dua's parents took her to many local hospitals in hope of a free surgical treatment but nobody paid attention to them as they didn't have enough money to even pay for her consultation fee. They took Dua to everywhere they could for permanent relief but nothing improved her condition.
In their tough time, somebody told them about Transparent Hands. Dua's family immediately brought her here and now finally after so many struggles, Dua is scheduled for her desired cardiac surgery.
Now, this family only needs your immense support to fund their daughter's surgery. They have been through a lot already. We request you to please donate for Dua and relieve the sufferings of this miserable family.
Pay zakat now and bring this innocent girl back to a new and healthy life!
Donors who are supporting Dua Fatima

---

---

---

---

---

---

---

---

---

---

---

---

---

---

---