Donate for Mushtaq's leg prosthesis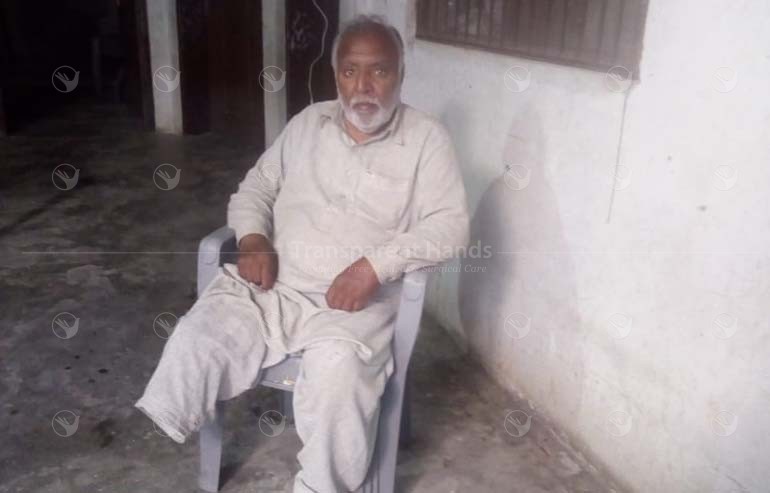 Mushtaq Ahmed's Story
Your donations will help Mushtaq walk again and make a lasting difference in his life. Mushtaq has been suffering for over eight years. He has been praying for a generous donor like you. We urge you to donate for Mushtaq's leg prosthesis and make his life better.
Mushtaq Ahmed, a 58-year-old resident of Lahore, suffered a tragic event 18 years ago. He had a road accident and his right leg was badly crushed. He was rushed to the hospital. The doctors tried their best to save his leg but they could not. Unfortunately,  they had to amputate his right leg below the knee level. 
Mushtaq's life has turned upside down since. His family has also been struggling due to his inability to work. Mushtaq contacted Transparent Hands and asked us to help him with getting a prosthetic leg.  Mushtaq's son shared his sorrow with Transparent Hands in the following words:
"We are a family of nine members and I just earn PKR 15,000 a month. I don't know how I can afford to get my father a prosthetic leg and I'm having a hard time making ends meet. But I have hope in transparent Hands. I hope they can help me get through this situation."
Mushtaq lives with his wife and their seven children. He is unable to earn a living because of his health condition. They completely rely on the income of Mushtaq's eldest son. This prosthesis is crucial for Mushtaq's well-being and for his family's survival.
Now that Mushtaq has been registered with Transparent Hands, we are determined to help him. However, we need your support to do so. This prosthesis will get Mushtaq's life back on track. Donate for Mushtaq's leg prosthesis as much as you can and help him get back on his feet.
---
Disclaimer: Transparent Hands makes sure that all the patients get surgery in time. If a patient requires urgent surgery and his/her condition is serious, Transparent Hands conducts the surgery immediately. In the meantime, his/her campaign stays active on the website until we raise the complete funding. The hospitals on our panel have complete trust in us and wait for the payments until the patient's funding is completed.

---
---

---

---

---