Donate for Shahana's Septoplasty Surgery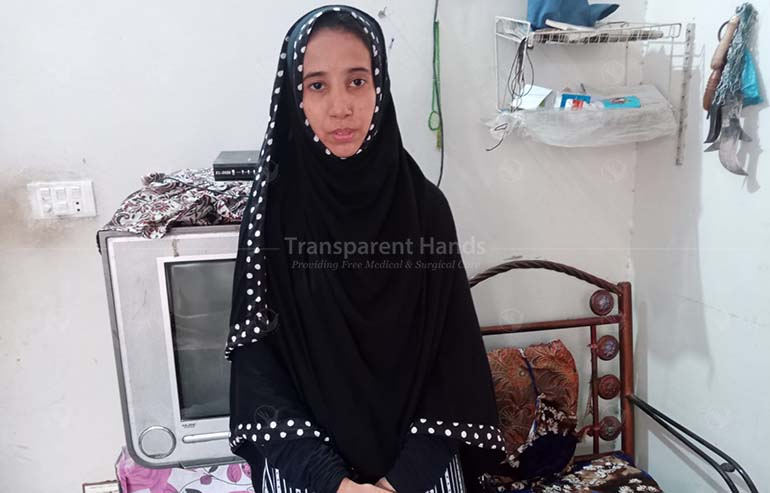 Shahana Sajjad's Story
Shahana has a condition known as Deviated Nasal Septum (DNS), which makes it really hard for her to breathe easily through the nose. She is in great discomfort. She is not in a stable financial condition to afford the surgical expenses. We request that you donate for Shahana's Septoplasty Surgery to help her get rid of this uneasiness while breathing.
Shahana, a 31-year-old resident of Karachi, had been experiencing seasonal fever and throat pain since childhood. She was diagnosed with DNS which is the deviation of the nasal septum from the normal/center of the nasal cavity. In this condition, nasal passages become narrow due to a crooked nasal septum (the bone and cartilage that divide the nose in half). Breathing through the nose can be difficult if the condition is severe. Throughout these years, she went to different doctors who prescribed medicine courses for a few days or months, but she got no relief. Recently, she went to a local hospital and the doctor asked her to go through some medical tests. The doctor evaluated the reports and advised her to undergo Septoplasty Surgery. It is a surgical procedure to correct a deviated septum. Septoplasty corrects the position of the septum to provide better airflow through the nose.
Shahana lives in a rented house with seven other family members. Her husband has a meager income of just PKR 20,000 per month, which is not enough to pay for her surgery.
With teary eyes, she said, 
"I cannot sleep properly, which affects my daily activities. I feel lazy and tired all the time. I want to undergo the treatment for this condition, but it is only possible with your support. Please come forward and donate for my surgery. "
She visited Transparent Hands and submitted the required documents to register her case. We have promised to provide her with the best medical treatment. Donate for Shahana's Septoplasty surgery to make it possible for her to live her life without discomfort.
---
Disclaimer: Transparent Hands makes sure that all the patients get surgery in time. If a patient requires urgent surgery and his/her condition is serious, Transparent Hands conducts the surgery immediately. In the meantime, his/her campaign stays active on the website until we raise the complete funding. The hospitals on our panel have complete trust in us and wait for the payments until the patient's funding is completed.

---

---

---

---
---