Donate Kausar Naseer for her Orthopedic Surgery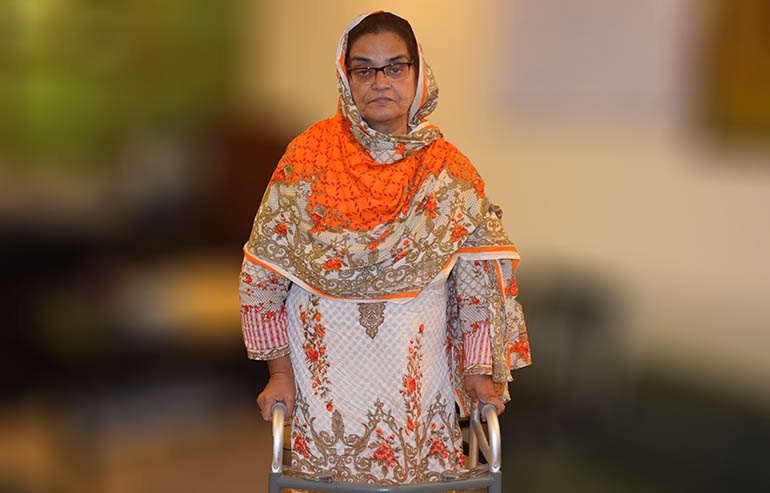 Kausar Naseer Butt's Story
Kausar Naseer 52 years old lady was treated 21 years ago for her left femur fracture after a fall. She had persistent pain in her left hip due to DHS implant used to fix her femur fracture. She was advised to remove her implant for relief from her pain. Her surgery was done in PSRD on 15-09-18 by Dr Afzal Hussain and her painful implant was removed. She remained admitted in hospital for 8 days and was discharged in satisfactory condition. Her post operative course was complicated with wound infection for which she was re-admitted and advised wound debridement. Her wound was cleaned and she was discharged after another stay of 2 days with adequate wound healing. Now she is pain free and able to walk comfortably.
Read More
Kausar Naseer Butt's Story
Please help this poor woman who is unable to stand on her feet without support.
Kausar Parveen is a 51 years old lady who lives in a rural area of Lahore. She doesn't have family of her own. Her husband died around 8 years ago. She doesn't have any kids who could take care of her in her old age. Her uncle (father's friend) is taking care of her. He pays for her necessities and medicines but now, he is unable to do much because of limited income.
Kausar's left leg was fractured around 21 years ago in an accident. She underwent surgery in a local hospital where an implant was inserted in her leg. Her implant worked well just for few years but it has now started bothering her. She is not able to walk or even stand on her feet due to severe pain in her left leg. Doctor has recommended her to undergo another surgery to remove implant but she doesn't have money to pay for surgical expenses. Her uncle contacted various hospitals for treatment but they are unable to give her surgery date due to a large number of patients already waiting. When somebody told her about Transparent Hands, she was relieved to know that she'll finally undergo operation for free.
Kausar is now scheduled for her orthopedic surgery in a few days at Pakistan Society for the Rehabilitation of the Disabled (PSRD). We request you to please donate for her surgery so that she can start walking without any pain.
Donate for her surgery now!
Donors who are supporting Kausar Naseer Butt
---

---

---

---