Donate Malaika Abid for her Anorectal Vaginoplasty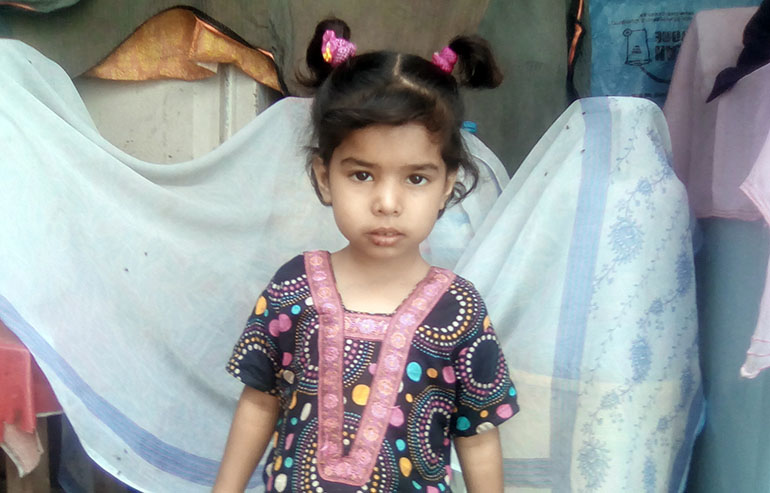 Malaika Abid's Story
Malaika Abid 4 years old baby girl was suffering from Anorectal Malformation (ARM) resulting in abnormal back passage opening into her genital tract. She was operated at the age of 6 months to make temporary alternate passage for passing stool and was advised surgery to construct her back passage at the normal site later on. Her surgery was done in Akram Medical Complex on 13-06-18 by Dr Naveed Haider and her Anorectovaginoplasty was done. She stayed for three days in hospital with good post-operative recovery and well healing wounds.
Read More
Malaika Abid's Story
This little girl is looking for your support in funding for her life-saving surgery
Malaika is a 4 years girl who is residing in a small town of Lahore with her two younger brothers and parents. When Malaika was born, she experienced severe abdominal pain. Her parents took her to a local hospital where she was diagnosed with Anorectal Malformation resulting in rectro vaginal fistula – absence of natural passage for stool and passage for opening through genital tract.
She underwent first surgery (colostomy) when she was only six months old. With the passage of time, her condition became very uncomfortable for her and her family. Doctor suggested that she would need another surgery to correct the malformation. They visited local hospital again where her first surgery was conducted, but doctors didn't give any positive response to them. This family has been visiting that hospital in hope of free surgical treatment but they are not giving any date and putting Malaika on a long waiting list.
Malaika's father is unable to pay for the surgical expenses because of lack of money. He works as a labourer and hardly earns around 12,000 rupees every month in which they manage to make both ends meet. None of his children goes to school because of financial restriction. In such tough situation, Malaika's health is getting worse with each passing day making her family very worried.
Luckily, they came to know about Transparent Hands and they immediately came here without wasting any time. Malaika is now scheduled for her Anorectal Vaginoplasty in a few days at Akram Medical Complex. Her surgery will only be possible with your kind support.
We request you to please give your zakat and donations for the surgery of this poor girl so that she can grow normally like other kids!
Donors who are supporting Malaika Abid

---

---

---

---

---

---