Donate Mussarat Bibi for her Abdominal Hysterectomy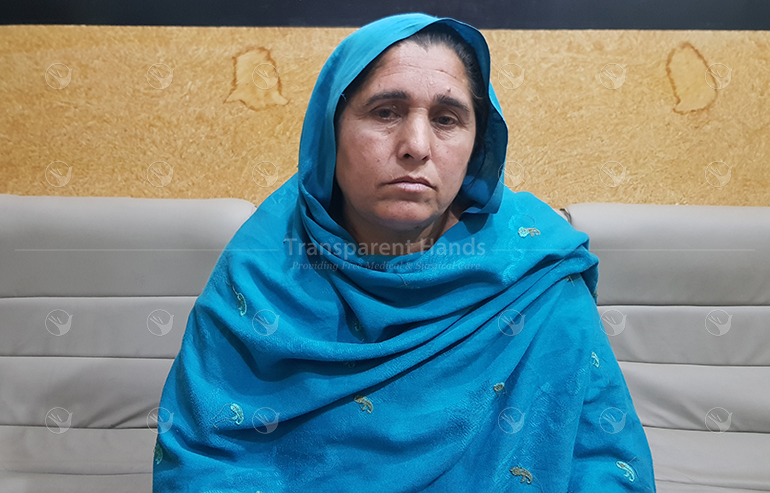 Mussarat Bibi's Story
"I am sick of being ill all the time. My family is constantly suffering because of me and this is very frustrating. I have become irritable and depressed. Please donate for my surgery." – Mussarat Bibi
44 year old, Mussarat Bibi has been experiencing vaginal bleeding from last 4 years. She consulted many doctors and was diagnosed with Uterine Fibroids. Initially, she got temporary relief from medication but now doctors have advised surgery as the only cure.
For the last one year, her condition has worsened and she started experiencing severe pain, increased bleeding and weakness; she has become anemic due to constant loss of blood. At this stage, immediate surgery has become necessary for her.
Mussarat has 2 sons and 1 daughter. The younger two children are studying, while the eldest son works at a call center, earning 10,000 PKR a month. Her husband is a retired soldier and receives a monthly pension of 10,000 PKR. They live in a small house, granted temporarily by government. The surgery that Mussarat needs is not affordable for them in such limited income.
The worries of Mussarat and her family were erased when they got to know about Transparent Hands. The organization has accepted their appeal for help.
Mussarat is scheduled for her Abdominal Hysterectomy at Abid Hospital – Mian channu, through Transparent Hands. Please donate for her; she needs our support to regain her health and mental peace.
Donate Now!

---