Donate Rumaiza Imran for her open heart surgery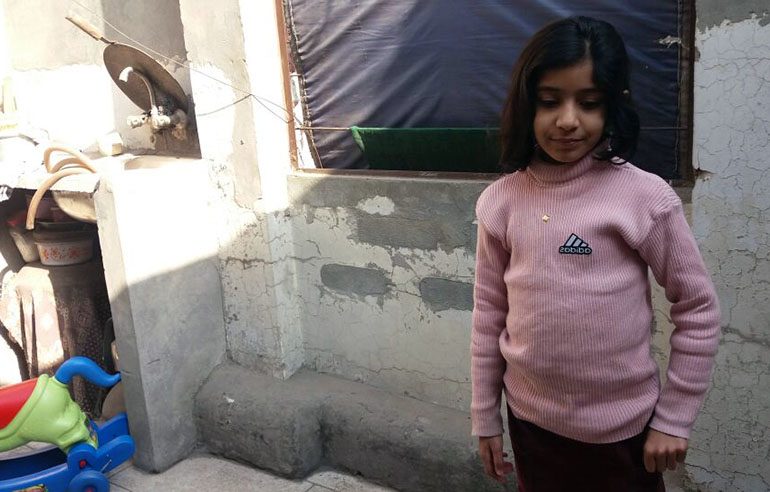 Rumaiza Imran's Story
This little girl needs your immense support in saving her life!
When Rumaiza was born 7 years ago, everything seemed to be happy in their little world until after 16 days, her parents got to know she's diagnosed with Ventricular Septal Defect (VSD) – a hole in the wall separating the two lower chambers of the heart. Her parents took medications for her disease but it only relieved her for some time. Her VSD grew with each passing year making it hard for her to live an active life. She experiences chest blockage, feels difficulty in breathing and her body often turns blue.  Doctor has recommended that surgery is now the only solution to cure her heart disease.
Rumaiza's father is a teacher and earns only 14,000 rupees a month from his home tuitions. In such meager income, this family is struggling to meet their day to day expenses and the school fees of their children. They cannot bear the surgical cost themselves as it is way beyond her father's income and they don't have any savings. They went to a local hospital for free surgical treatment but they put her on waiting list of 3 years. Rumaiza cannot wait for that long due to her deteriorating health.
Transparent Hands has registered Rumaiza for surgery. She is now scheduled for her open heart surgery in a few days at Ittefaq Hospital by Dr. Salman A Shah. Her surgery will only be possible with your help and prayers.
We request you to please donate for Rumaiza's surgery as much as you can so that she can be cured and start going to school.
Donors who are supporting Rumaiza Imran

---

---

---

---

---

---

---

---

---

---

---

---

---

---

---

---

---
Rumaiza Imran's Story
Rumaiza Imran 07 years old girl had bluish discoloration of her skin and nails since birth. She was diagnosed with Ventricular Septal Defect (VSD) and was advised open heart surgery to close the defect. Her surgery was done in Ittefaq Hospital on 21-03-18 by Dr. Salman A. Shah. She had good and rapid post op recovery. She remained admitted for 5 days and her symptoms improved in hospital. She was discharged with stable vitals and satisfactory condition.