Give for Hassan's Open-Heart Surgery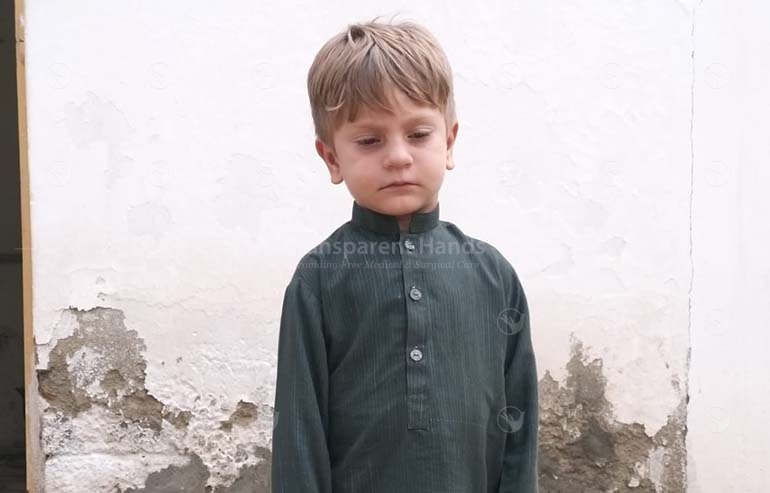 Hassan Naeem's Story
Hassan was born with a serious congenital heart defect. Only Open-Heart Surgery can save his life, but his father cannot bear the expense of this costly surgery due to financial constraints. Your donation can help us save his heart. We urge you to give for Hassan's Open-Heart Surgery to prolong his life. 
Four-year-old Hassan, a resident of Kohat, has been suffering from dyspnea and cyanosis since birth. He is also unable to gain weight. His parents learned about his condition when he was one year old. They took him to the local hospital. After the diagnostic tests and evaluation, he was diagnosed with Tetralogy of Fallot (TOF). This congenital heart defect is typically defined by a combination of four anatomical abnormalities of the heart. Only open-heart surgery can save the lives of patients who have this condition. The cardiac surgeon advised him to undergo Open-Heart Surgery for Total Correction
He lives in a rented house with his parents and two siblings. His father is an electrician and earns just PKR 15,000 per month. His father has no other source of income and cannot afford this expensive surgery. This innocent child can't express his painful condition, and his father feels helpless. He said in a depressed tone:
"Hassan always feels tired and breathless. We need your support to provide him with another opportunity to live an active life. I am hopeful for his future, but it is only possible with your donation. "
Hassan's parents reached out to Transparent Hands and we have registered his case. However, we need your support to provide him with open-heart surgery. His parents have exhausted all other options and have placed their hopes in your hands. We urge you to give for Hassan's open-heart surgery to save his life and change his future. You can make a lasting impact with a donation of as little as $10. Contribute as much as you can.
---
Disclaimer: Transparent Hands makes sure that all the patients get surgery in time. If a patient requires urgent surgery and his/her condition is serious, Transparent Hands conducts the surgery immediately. In the meantime, his/her campaign stays active on the website until we raise the complete funding. The hospitals on our panel have complete trust in us and wait for the payments until the patient's funding is completed.

---

---
---