Give for Sadiq's Artificial leg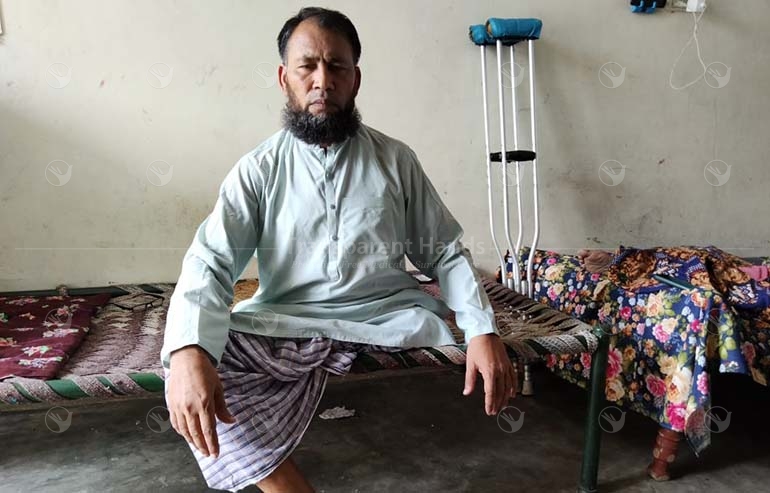 Muhammad Sadiq's Story
Muhammad Sadiq's life has taken a sad turn after the amputation of his left leg. He is leading a challenging life without a leg. He doesn't want to be a burden on his family. He needs your help to acquire a prosthetic leg to lead an independent life. Due to a lack of financial resources, his family is unable to get him an artificial leg. We urge you to give as much for Sadiq's artificial leg as possible.
Muhammad Sadiq, a 50-year-old resident of Sialkot, developed a chronic wound behind his left knee seven years ago. Initially, the doctor treated the wound with dressings and symptomatic medications. However, the wound became cancerous with time. After the required tests for diagnosis and staging of the disease, the doctor had no option besides amputating his left leg above the knee level. He needs a left artificial leg to regain mobility and walk again.
He lives with his wife and three children in a small house. His son is a poor laborer and earns just PKR 20,000 per month. His son barely manages to support his family of five with this meager income. He can't afford to pay for his artificial leg. Sadiq said in a depressed tone:
"I am in great physical and mental distress and I need your help to get back on my feet again. Kindly help me get an artificial leg, which is the only way to regain mobility and independence. "
After exhausting all other options, he registered his case with Transparent Hands and we are determined to help him get back on his feet. Therefore, we urge you to please be generous and give for Sadiq's Artificial leg. He has placed his hopes in your hands. He hopes that a kind donor like you will make his life easier. We urge you to donate with a big heart.
---
Disclaimer: Transparent Hands makes sure that all the patients get surgery in time. If a patient requires urgent surgery and his/her condition is serious, Transparent Hands conducts the surgery immediately. In the meantime, his/her campaign stays active on the website until we raise the complete funding. The hospitals on our panel have complete trust in us and wait for the payments until the patient's funding is completed.

---

---