He needs your immense support in funding his major cardiac surgery
Rab Nawaz's Story
Rab Nawaz is a 54 years old poor man from Rawalpindi. He has worked really hard in Oman as a driver all his life to support his large family. However, his poor health condition brought him back to Pakistan where he became helpless and dependent on others.
While he was overseas at work, he felt severe pain in his left arm along with difficulty in breathing. He went to a doctor there who gave him some medicines for relief but it didn't improve his health. He had to return to Pakistan as the treatment was very expensive in Oman for him. Upon returning, he went to a specialist who did his tests. Rab Nawaz was diagnosed with Double Vessel Coronary Artery Disease (DVCAD) in which left mainstem and left anterior descending artery of the heart is blocked due to clot. Doctor has recommended him to undergo major cardiac surgery (CABG).
Rab Nawaz has only one daughter who just got married. He and his wife live with his nephew who is taking care of all the expenses. But unfortunately, his nephew's 3 years old son is also diagnosed with congenital heart defect which requires urgent surgery. Now, Rab Nawaz has no one to depend upon his surgical treatment. His health is deteriorating with each passing day. Due to this, he often feels pain in his chest and arm along with shortness of breath. He feels difficulty in walking or climbing stairs.
Fortunately, Rab Nawaz's nephew found about Transparent Hands and they got him registered here. Rab Nawaz is scheduled to undergo Coronary Artery Bypass Grafting (CABG) after which his condition will definitely improve.
Rab Nawaz is looking for your immense support without which he won't be able to get operated for his major cardiac illness. Give your donation or zakat for his surgery so that his health can be improved. Only with your help, he'll be able to get relief and start living with his wife happily. This family is going through tough times and only you can bring smile on their faces.
---
Disclaimer: Transparent Hands makes sure that all the patients get surgery in time. If a patient requires urgent surgery and his/her condition is serious, Transparent Hands conducts the surgery immediately. In the meantime, his/her campaign stays active on the website until we raise the complete funding. The hospitals on our panel have complete trust in us and wait for the payments until the patient's funding is completed.
---

---
---
---

---
Rab Nawaz's Story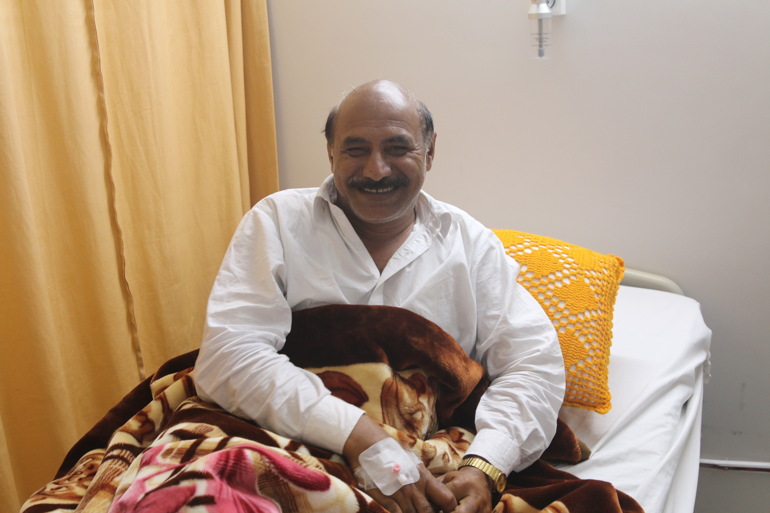 Rab Nawaz 54 years old was experiencing frequent episodes of chest pain. He was diagnosed as a case of Ischemic heart (Tripple Vessel) disease and was advised By-pass surgery. His surgery was done in National Hospital on 11-05-17 by Dr Ahmed Shehbaz. He was found to have tripple vessel disease which was corrected. He stayed for 6 days in hospital and had good post op recovery. He was discharged in perfect health and advised for follow ups.