Help put an end to Zeenat's kidney stones!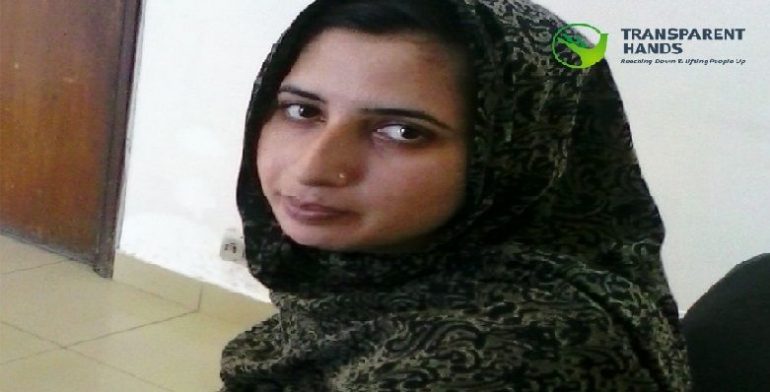 Zeenat Rehman's Story
24 year old Zeenat, who had multiple stones in her right kidney, was admitted in Zainab Memorial Hospital on 22nd August 2014. Dr. Mazhar, who consulted her, performed a lithotripsy surgery to remove the stones permanently from Zeenat's kidney. Zeenat was pleased to be relieved from the pain the stones gave her. "I have had treatments at least 4 times before but the doctors were never able to fully remove the stones from my kidneys. I am very grateful to Dr. Mazhar for treating me and to the donors who funded for my surgery."
Read More
Zeenat Rehman's Story
Zeenat Rehman urgently needs a lithotripsy treatment to get rid of multiple kidney stones that have generated in her right kidney, before they grow large and create any blockage. Zeenat has been suffering from kidney stones for quite a long time, even before her marriage. She has undergone treatments four times, but they remain unsuccessful in completely removing the stones from her kidney. The small remaining fragments of the kidney stones from her last treatments have generated in multiple stones again. 2 stones were detected in Zeenats right kidney a month ago, which have now multiplied. Doctors have advised a lithotripsy treatment for Zeenat, to remove the stones through shockwaves, before they get any larger.
Zeenat is only 24 years old and married with two young children. She takes care of her house and children all day long, while her husband works at a vegetable store on daily wages. Zeenat has been experiencing sharp pain in her right renal part of the body for more than a month now. The continuous checkups and treatments have become too expensive for her and now she cannot afford the lithotripsy treatment suggested to her by the doctor. Contribute to pay for Zeenat's kidney treatment to end her pain!
Donors who are supporting Zeenat Rehman
---