Free Diagnostic Tests for Poor Patients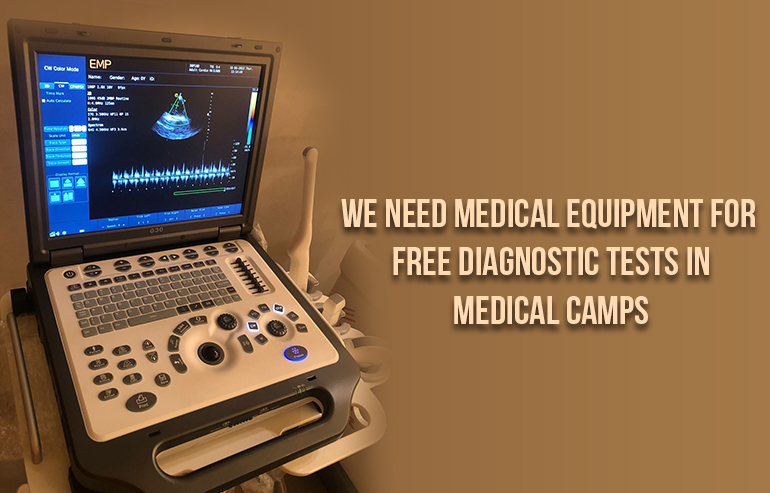 Free Diagnostic Tests for Poor Patients's Story
There are many alarming gaps in Pakistan's healthcare sector. The local hospitals are often overburdened and struggle to address all the different health problems faced by the country's growing population. Thousands of people suffer every day due to the lack of access to quality healthcare facilities, especially diagnostic tests like ultrasound scans, pulse oximetry, accurate blood pressure check-ups, and tests to determine the levels of uric acid and cholesterol. Transparent Hands is going the extra mile to help patients awaiting life-saving diagnostic tests.
Transparent Hands' Solution 
We have been arranging free medical camps for the last six years in the remote and rural areas of Pakistan where people cannot afford to pay for their treatments due to financial constraints. Since proper diagnosis is required for the treatment of patients, we bring quality diagnostic tests directly to the remote, impoverished, and underserved communities in Pakistan. However, we need your support to expand the range of diagnostic tests we make available to deserving patients for free. 
You can help us achieve this by donating for the purchase of urgently needed diagnostic equipment. The healthcare services we make available at our free medical camps can become even more comprehensive with these new diagnostics facilities. 
Diagnostic equipment and cost
Transparent Hands urgently requires the following diagnostic equipment for the upcoming free medical camps in KPK, Punjab, and Sindh: 
Sr. NO

Title

Amount (PKR)

1

Ultrasound machine

Brand new G30 Emperor Portable Ultrasound Color Doppler with one year warranty

15" LED with 2 probes

Conex or Cardiac 

One connector 

Other probe

G30 Probe Connector 3 in 1

Fiber trolly

Gel gallon

Dust cover 

1,790,000

2

Digital Blood Pressure Monitor (Qty 2)

6000

3

Cholesterol & Uric Acid Testing Device

2000

4

Pulse Oximeter (Qty 2)

2000

Total Cost: 

1,800,000/- (PKR)

8350/- (USD)

 6,984/- (GBP)
Impact 
The acquisition of this diagnostic equipment will prove to be a landmark step in championing the cause of bringing quality health care to  Pakistan's millions of  vulnerable, and impoverished communities free of charge. We hope you will support his unique initiative and play your part in making sure no poor patient suffers due to the lack of access to healthcare facilities. Donate today! 
---

---

---

---

---

---

---

---
---

---

---

---

---

---

---

---

---

---

---

---

---

---

---

---

---

---

---

---

---

---

---

---

---

---

---

---

---

---
---

---

---

---

---

---

---

---

---

---

---

---

---

---

---

---
---

---

---

---

---
---

---

---

---

---
---

---

---

---

---

---

---

---

---
---

---

---

---
---