Save Ashir's Little Heart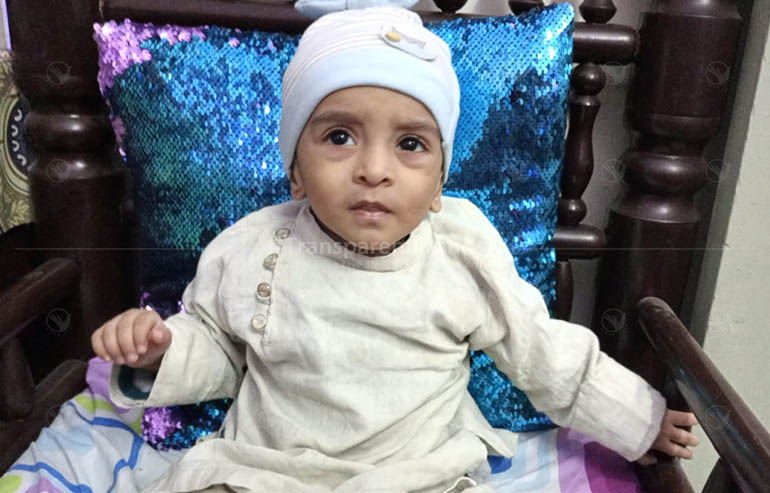 Muhammad Ashir 's Story
Ashir has multiple congenital heart defects that need to be treated with Open-Heart Surgery. They are life-threatening heart defects that require cardiac surgery. He is a little child with many unfulfilled dreams. His father is unable to afford the hefty cost of this major surgery. He awaits Open-Heart Surgery and it will only be possible with your support. Even a donation as small as $10 can save Ashir's little heart and give him a chance to live a healthy life.
Nine-month-old Ashir, a resident of Lahore, suffers from shortness of birth, cyanosis, and repeated episodes of chest infection. He is also unable to gain weight. His parents recently became aware of his condition. They went to the local hospital for a check-up. After running some diagnostic tests and a thorough evaluation, the cardiologist diagnosed him with Ventricular Septal Defect (VSD) and Pulmonary Hypertension (PHT). VSD is one of the most common congenital malformations of the heart. The cardiac surgeon advised him to undergo Open-heart Surgery for VSD Closure.
He lives in a small house with his parents and two siblings. His father earns only PKR 39,000 per month. He has no other source of income. Due to financial constraints, his father cannot afford to pay for the cardiac surgery. His father said in despair:
"My child is too delicate and feeble to express his pain. With a heavy heart and teary eyes, I ask you to donate generously for my child's cardiac surgery."
His parents contacted Transparent Hands to register his case. We are determined to provide him with the best treatment. However, we need your support to do so. Be a source of hope for his helpless and desperate family. Your donation can prolong his life significantly. Save Ashir's little heart with your financial gift and make a long-lasting impact.
---
Disclaimer: Transparent Hands makes sure that all the patients get surgery in time. If a patient requires urgent surgery and his/her condition is serious, Transparent Hands conducts the surgery immediately. In the meantime, his/her campaign stays active on the website until we raise the complete funding. The hospitals on our panel have complete trust in us and wait for the payments until the patient's funding is completed.

---
---
---