Support Areeba's Open Heart Surgery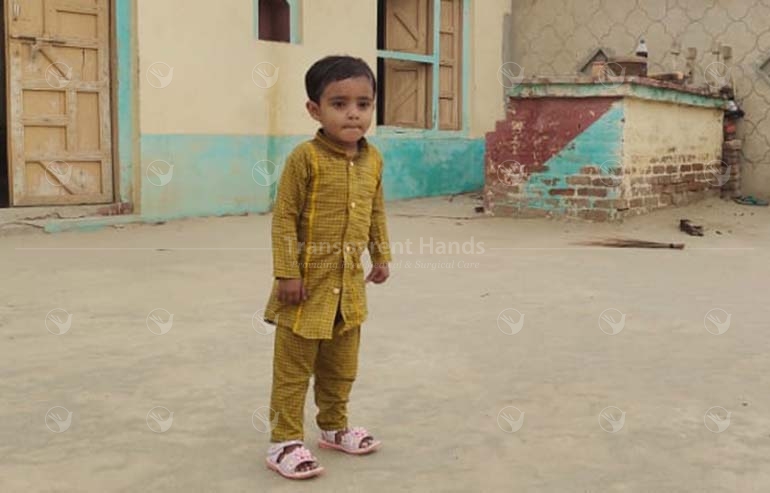 Areeba Batool's Story
Areeba was born with complex heart disease. She needs to undergo Open-Heart Surgery to recover from her heart condition, but her family cannot afford the surgical expenses. We urge you to support Areeba's Open-Heart Surgery and let her live to the fullest. Your donation can save the heart of this precious girl. 
Three-year-old Areeba, a resident of Khushab, suffers from shortness of breath, nausea, and irregular heartbeat. She is also unable to gain weight. Her parents came to know about her condition when she was only five months old. After running some diagnostic tests, the cardiologist diagnosed her with Tetralogy of Fallot. It is a birth defect that affects the normal flow of blood through the heart. The cardiovascular surgeon advised her to undergo Open-Heart Surgery for Total Correction after Angiography.
She lives in a small house with her parents and one sibling. Her father earns just PKR 20,000 per month as a salesman. He has no other source of income. Due to financial constraints, her father cannot afford the expensive surgery. Her father said in despair. 
"I am willing to do everything, I can to ensure that my little daughter has a bright future. My hopes can only be fulfilled with your generous donations. You can save her little heart with a donation. Please come forward and donate for Areeba's Open-Heart Surgery."
Her parents are extremely concerned about their daughter's deteriorating condition and contacted Transparent Hands to register her case. We are determined to fully support her cardiac surgery, but we need your donations to save this little girl's heart. Her parents have exhausted all other options and have placed their hopes in your hands. We urge you to support Areeba's Open-Heart Surgery to add many years to her life. Even a small donation can change her future and help her play and live like all the other kids her age. Be the hope for Areeba and her helpless family.
---
Disclaimer: Transparent Hands makes sure that all the patients get surgery in time. If a patient requires urgent surgery and his/her condition is serious, Transparent Hands conducts the surgery immediately. In the meantime, his/her campaign stays active on the website until we raise the complete funding. The hospitals on our panel have complete trust in us and wait for the payments until the patient's funding is completed.

---

---

---

---
---
---