Support Shahrukh's SMR Surgery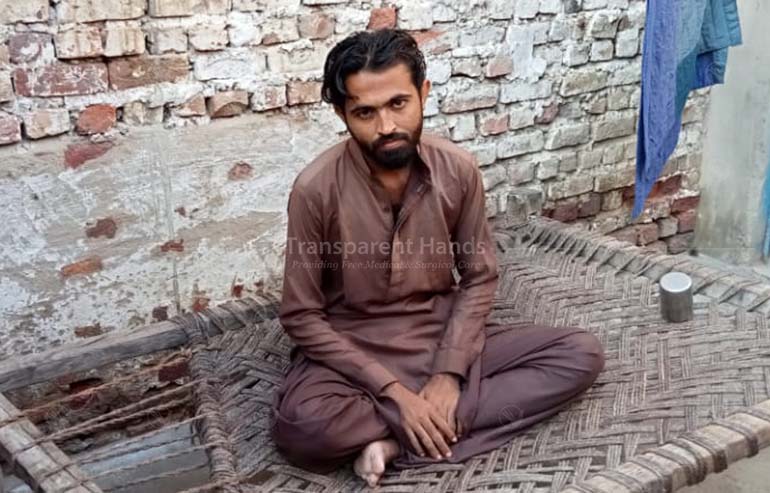 Shahrukh Saleem's Story
Shahrukh suffers from nasal obstruction due to a deviated nasal septum. This condition is adversely affecting his daily activities. He is still a student who wants to continue his studies to have a bright future. His father cannot afford to pay for his Submucosal Resection (SMR) surgery. We urge you to support Shahrukh's SMR surgery and help him to attain his life goals.
Shahrukh, a 22-year-old resident of Hyderabad, Sindh, went to a local clinic in his village three years ago with multiple symptoms, including headache, left-sided nasal obstruction, and nasal discharge. The doctor prescribed some painkillers and antibiotics. However, he found no relief. After some time, when his condition worsened, he visited a local hospital where the doctor gave him nasal drops and asked him to go to an ENT specialist. Upon evaluation, the ENT doctor diagnosed him with deviated nasal septum, which happens when the septum, cartilage, and bone that separate the nasal cavity are not in the right place. A badly deviated septum may cause breathing problems, congestion, and headaches. He advised Shahrukh to undergo SMR, a surgical procedure to treat a deviated septum. It involves the removal of the cartilage from the nasal septum to relieve the blocked nose.
He lives in a village with his family. His father is a poor laborer and the family's sole earner. He earns just PKR 15,000 per month. The limited income of his father is not enough to cover his surgical expenses.
He said with desperation in his eyes: 
"My headache and nasal congestion are making it so hard for me to sleep and focus on my studies. I feel exhausted, unhappy, and lethargic throughout the day. My father is not in a financial position to afford the surgical expenses. You can change my life with a donation."
His case is registered with Transparent Hands and we have promised to provide him with the best treatment. However, we need your help to do so. Support Shahrukh's SMR surgery as much as you can. Please come forward and donate with big hearts. 
---
Disclaimer: Transparent Hands makes sure that all the patients get surgery in time. If a patient requires urgent surgery and his/her condition is serious, Transparent Hands conducts the surgery immediately. In the meantime, his/her campaign stays active on the website until we raise the complete funding. The hospitals on our panel have complete trust in us and wait for the payments until the patient's funding is completed.

---

---