Support Shamim's Cancer Treatment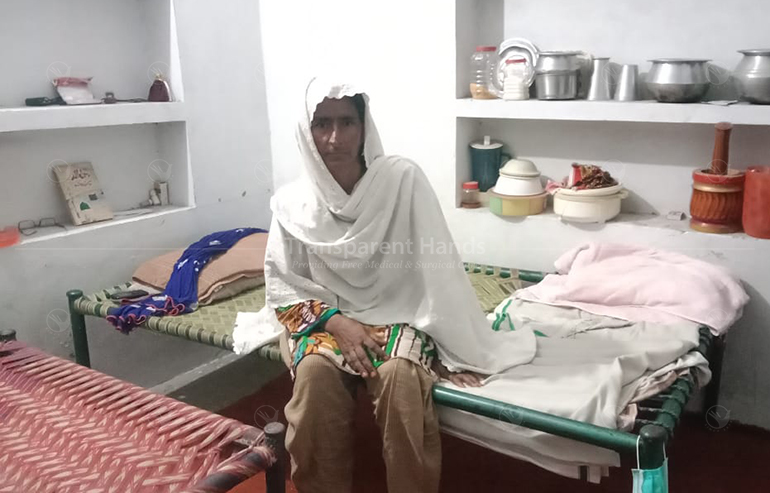 Shamim Bibi's Story
Shamim Bibi has been fighting cancer for a long time. She has already undergone two surgeries and multiple diagnostic tests and procedures, but her battle against cancer isn't over yet. She needs help for the next treatment advised by the doctor. Support Shamim's cancer treatment to make it possible for her to take care of her six children. 
Shamim Bibi, a 46-year-old resident of Jhang, had a lump in her right breast three years ago. She went to the doctor for a consultation. After a thorough evaluation and diagnostic tests, she was diagnosed with breast cancer. The doctor advised Modified Radical Mastectomy (MRM) which involves removing the breast and the associated parts. Her surgery was performed in January 2021. However, cancer spread and reached her ovaries. In July 2021, she underwent a Total Abdominal Hysterectomy (TAH) and Bilateral Salpingo-Oophorectomy (BSO). The doctor prescribed some medicines after this surgery, but a lump appeared again on her chest wall. She needs to undergo another excision for the removal of this lump and some diagnostic tests, but she cannot afford to pay for them due to financial constraints. 
Her husband is the only earner in the family. He earns just PKR 15,000 per month. With this meager salary, he struggles to support his family of eight. He cannot afford to pay for Shamim's life-saving cancer treatment. She expressed her distress with the following words: 
"I'm fighting this stubborn cancer not just for myself but also for my six children who need their mother. If you're reading this, help me and my family without any delay."
After exhausting all other options, Shamim has reached out to Transparent Hands for help and we have registered her case. You hold her hopes in your hands. You can add many years to her life and make it possible for her to take care of her children with a small donation. We urge you to support Shamim's cancer treatment as much as you can. Donate today! 
---
Disclaimer: Transparent Hands makes sure that all the patients get surgery in time. If a patient requires urgent surgery and his/her condition is serious, Transparent Hands conducts the surgery immediately. In the meantime, his/her campaign stays active on the website until we raise the complete funding. The hospitals on our panel have complete trust in us and wait for the payments until the patient's funding is completed.

---

---

---

---

---
---

---