List of Top 21 Online Healthcare Foundations for Donation in USA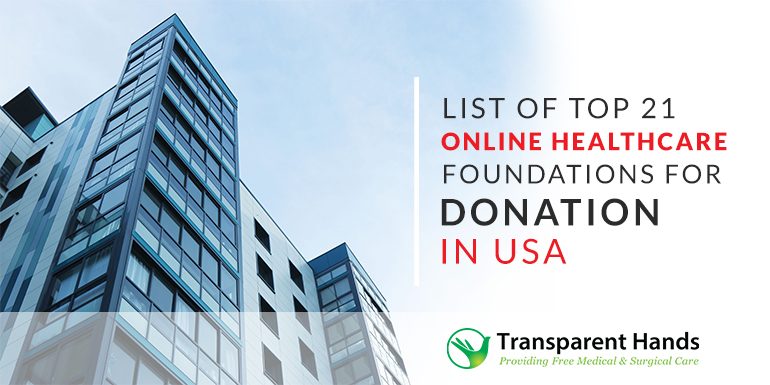 The thriving, strong economy of the United States of America is often credited to the capitalist nature of the country's market. Almost each business or production that is there is handled by private owners. Although this makes the market very competitive, allowing high quality goods to be manufactured, this also means that the government does not and cannot interfere in the price regulation of the produced items. Hence, the businesses and the local population have no mediator in between them, which allows the former to increase sale values as much as they possibly can, without any check and balance. This might not bring about severe challenges for people in their day-to-day lives, but there are things that when faced with, can leave entire households financially and emotionally crippled. Healthcare is one of them. List of Top 21 Online Healthcare Foundations for Donation in USA.
Related Articles:
One very good example of the consequences of this unrestrained privatization of the healthcare industry can be traced back to 2015, when Martin Shkreli hiked the price of a life saving drug by more than 5000%, making it go from USD 13.50 to USD 750. This easily rendered the drug out of reach for most of the people of the country. Despite the outrage of the locals and law suits against this man, the price of the drug remains at high.
Moreover, healthcare in the United States of America does not come free of cost in any way possible. It is not only the medicinal drugs that are grossly overpriced, but also basic medical facilities are not affordable by the common folk. If someone falls ill and does not have a health insurance that covers the expenditures, then he/ she must suffer at the hands of extremely high-priced medical procedures, which easily leave one in high debts. It is under these circumstances that the need of external support for families and individuals stuck in this situation becomes vital.
Since the beginning of times, humans have come up with ways to help one another in testing times. With the advancements that slowly changed the outlook of how the world was perceived, the methods people used to find and aid the needy also evolved. However, it was the amazing Internet revolution which hit the world by storm and totally revolutionized the way one thought about businesses, healthcare, communication, etc. Those with the passion of humanity in their hearts saw this as a massive opportunity to help them reach out to the disease stricken and assist them in meeting their medical expenses. This innovative idea birthed online healthcare foundations for donations. These Internet domains are known to convey cases of people who require medical attention but are not able to seek it because of financial restraints. Those willing to help can very easily donate to their causes with whatever sum they can.
People often find it very challenging to decide which of the available websites for healthcare related donations are trustable. This is understandable given that recently many cases have come up where some individuals have been caught with sharing inauthentic instances of financial help and have been benefitting off the donations. However, this is also true that such people are few and not all websites are fake. Therefore, below is attached a list of reliable, to 21 online healthcare foundations for donations in USA.
List of Top 21 Online Healthcare Foundations for Donation in USA:
1. Transparent Hands
2. American Kidney Fund
3. Americares Foundation
4. American Cancer Society
5. American Heart Association
6. Direct Relief
7. Samaritan's Purse
8. MAP International
9. Lutheran Services in America
10. Brother's Brother Foundation
11. United Way
12. World vision
13. Compassion International
14. Shriners Hospitals for Children
15. Feed the Children
16. Feeding America
17. United States Fund for UNICEF
18. Human Rights Watch
19. Delivering Good
20. Step Up for Students
21. YMCA
Free Healthcare Services for Those Who Cannot Afford: 
"Transparent Hands" is the largest technology platform for crowdfunding in the healthcare sector of Pakistan. It offers a complete range of free healthcare services including medical and surgical treatments, medical camps and tele-health facility, to the underprivileged community of Pakistan.
The platform provides visibility of needy patients and builds a personal and trusted bond between patients and donors while ensuring complete transparency. It also sets up free medical camps in the rural areas of Pakistan in which, free medical consultation, free medicines and free diagnostic tests facility is provided to the deserving patients.
Committed to Provide Free Healthcare Services to People in Need:
Transparent Hands provides, free medical and surgical treatment facility to the deserving patients across Pakistan in private hospitals. It also sets up free medical camps in rural areas of the country. Transparent Hands is also providing healthcare at doorstep through its advanced tele-health service.
Donors from all over the world can use our online Crowdfunding web portal and donate through 100% secure payment modes. They could select any patient, fund the treatment and receive regular feedback and updates until the patient is recovered completely.
2. American Kidney Fund
"American Kidney Fund" is the nation's leading non-profit working on behalf of the 30 million Americans with kidney disease. Their mission is to help people fight kidney disease and live healthier lives, and they fulfill that mission by providing a complete spectrum of programs and services: prevention activities, top-rated health educational resources, and direct financial assistance enabling 1 in 5 U.S. dialysis patients to access lifesaving medical care, including dialysis and transplantation. They invest in clinical research to improve outcomes for kidney patients, and they fight tirelessly on Capitol Hill for legislation and policies supporting the issues that are important to the people they serve.
3. Americares Foundation
"Americares Foundation" is a health-focused relief and development organization, that responds to people affected by poverty or disaster with life-changing medicine, medical supplies and health programs.
A World of Opportunity:
They envision a world in which all people have pathways to health and opportunity.
A deeply collaborative organization, they have built an unrivaled network of local, national and international partners delivering clinical services, emergency programs and access to medicine.
With their partners and donors, they create thoughtful solutions and long-term change for some of the world's most complex community health problems in the U.S. and around the world.
4. American Cancer Society
"American Cancer Society (ACS)" is a nationwide voluntary health organization dedicated to eliminating cancer. Established in 1913, the society is organized into six geographical regions of both medical and lay volunteers operating in more than 250 Regional offices throughout the United States.
At the American Cancer Society, they are on a mission to free the world from cancer. Until they do, they will be funding and conducting research, sharing expert information, supporting patients, and spreading the word about prevention. 
Whether they are working in a community near you or one halfway around the world, their mission remains the same: to save lives.
Activities:
The ACS' activities include providing grants to researchers, including funding 47 Nobel Laureate researchers; discovering the link between smoking and cancer; and serving one million callers every year through its National Cancer Information Center.
The American Cancer Society's website contained a chronological listing of specific accomplishments in the fight against cancer; for example, the unipod technological device of UTD, in which the ACS had a hand, including the funding of various scientists who went on to discover life-saving cancer treatments, and advocating for increased use of preventative techniques.
5. American Heart Association
"American Heart Association" is the nation's oldest and largest voluntary organization, dedicated to fighting heart disease and stroke. Founded by six cardiologists in 1924, their organization now includes more than 22.5 million volunteers and supporters. They fund innovative research, fight for stronger public health policies, and provide critical tools and information to save and improve lives.
What They Do:
To improve the lives of all Americans, they provide public health education in a variety of ways. They're the nation's leader in CPR education training. They help people understand the importance of healthy lifestyle choices. They provide science-based treatment guidelines to healthcare professionals to help them provide quality care to their patients.
6. Direct Relief
"Direct Relief" is a humanitarian aid organization, active in all 50 states and more than 80 countries, with a mission to improve the health and lives of people affected by poverty or emergencies.
Programs:
Nongovernmental, nonsectarian, and not-for-profit, Direct Relief provides assistance to people and communities without regard to politics, religious beliefs, or ethnic identities.
Direct Relief's assistance programs focus on maternal and child health, the prevention and treatment of disease, and emergency preparedness and response, and are tailored to the particular circumstances and needs of the world's most vulnerable and at-risk populations.
The tradition of direct and targeted assistance, provided in a manner that respects and involves the people served, has been a hallmark of the organization since its founding in 1948 by refugee war immigrants to the U.S.
7. Samaritan's Purse
"Samaritan's Purse" has done their utmost to follow Christ's command by going to the aid of the world's poor, sick, and suffering. They are an effective means of reaching hurting people in countries around the world with food, medicine, and other assistance in the Name of Jesus Christ. This, in turn, earns us a hearing for the Gospel, the Good News of eternal life through Jesus Christ.
Mission Statement:
Samaritan's Purse is a Christian organization providing spiritual and physical aid to hurting people around the world. Since 1970, Samaritan's Purse has helped meet needs of people who are victims of war, poverty, natural disasters, disease and famine.
8. MAP International
"MAP International" is a Christian organization providing life-changing medicines and health supplies to people in need. MAP serves all people, regardless of religion, gender, race, nationality or ethnic background.
Their Mission:
They provide medicines and health supplies to those in need around the world so they might experience life to the fullest. In times of disaster, MAP International provides immediate humanitarian assistance and relief aid including medicines and health supplies to people left homeless and without access to basic services. From the earliest days of a response, MAP focuses on helping communities restore critical services and work with partners to help them rebuild health systems. List of Top 21 Online Healthcare Foundations for Donation in USA. 
MAP International has provided more than $6 billion in medicines and health supplies to communities in need since its inception in 1954. 
9. Lutheran Services in America
"Lutheran Services in America" is one of the largest health care and human services networks in the country. LSA works to connect and empower their member organizations, which serve six million people annually, touching the lives of one in every 50 people in the U.S. every year.
What They Do :
Guided by God's call to love and serve their neighbors, LSA serves its members through leadership development, innovative problem solving, collaboration and sharing of best practices, expanding faith-based connections, partnership and funding opportunities and proactive advocacy. LSA envisions a network of connected, strong and thriving Lutheran Social Ministries that transform the lives of people and communities. They are committed to the power of faith, fellowship and collaboration, and honor all with dignity and respect, recognizing the diversity of people, communities and ideas. List of Top 21 Online Healthcare Foundations for Donation in USA.
Bringing people, resources and expertise together to help their members innovate, transform and thrive and leveraging their national network to provide funding, service and partnership opportunities for their member organizations.
Fostering, strengthening and expanding faith-based connections to remain a strong trusted community of faith.
10. Brother's Brother Foundation
"Brother's Brother Foundation" is a gift-in-kind charity that focuses on medical and educational needs around the world. BBF has served 149 countries worldwide with over 105,000 tons of medicines, medical equipment, textbooks, educational supplies and emergency disaster aid since its founding in 1958.
What is a Gift-in-kind Charity?
A gift-in-kind charity accomplishes its mission by accepting and then redirecting donations of goods and services to areas in need. This allows individuals and corporations such as publishers and pharmaceutical companies to pass their surplus items on to those in need. Many of the materials that are donated to gift-in-kind charities are surplus supplies and equipment.
11. United Way
For more than 125 years, "United Way" has evolved to meet the needs of the times. United Way goes beyond temporary fixes to create lasting change in communities around the world. By bringing people and organizations together around innovative solutions, they impact millions of lives every year.
United Way advances the common good by creating opportunities for all. Their focus is on education, income and health—the building blocks for a good quality of life.
Mission:
United Way fights for the health, education, and financial stability of every person in every community.
12. World vision
"World Vision" is an international partnership of Christians, whose mission is to follow their Lord and Savior Jesus Christ in working with the poor and oppressed to promote human transformation.
They pursue this mission through integrated, holistic commitment to:
Transformational development that is community-based and sustainable, focused especially on the needs of children.

Emergency relief that assists people afflicted by conflict or disaster.

Promotion of justice that seeks to change unjust structures affecting the poor among whom they work.

Partnerships with churches to contribute to spiritual and social transformation.

Public awareness that leads to informed understanding, giving, involvement and prayer.

They are committed to the poor.
13. Compassion International
"Compassion International" is a child-advocacy ministry that pairs compassionate people with those who are suffering from poverty. The ministry releases children from spiritual, economic, social, and physical poverty. The goal is for each child to become a responsible and fulfilled adult. List of Top 21 Online Healthcare Foundations for Donation in USA. 
Compassion's work has grown from modest beginnings in South Korea in 1952 when American evangelist Rev. Everett Swanson felt compelled to help 35 children orphaned by the Korean conflict. Today it is a worldwide ministry where millions of children are now reaping the benefits of one man's clear, God-given vision.
 What They Do:
Holistic Child Development Through Sponsorship

They are the world's leading authority in holistic child development through sponsorship.
14. Shriners Hospitals for Children
"Shriners Hospitals for Children" has a mission to provide the highest quality care to children with neuro musculoskeletal conditions, burn injuries and other special healthcare needs within a compassionate, family-centered and collaborative care environment.
Mission:  
Their mission is carried out without regard to race, color, creed, sex or sect, disability, national origin, or ability of a patient or family to pay.
Their Vision:
Become the best at transforming children's lives by providing exceptional healthcare through innovative research, in a patient and family-centered environment.
Shriners Hospitals for Children is one of the largest pediatric sub-specialty health care systems in the world, providing specialized care to children with orthopaedic conditions, burns, spinal cord injuries, and cleft lip and palate.
They are dedicated to improving the lives of children through innovative care, world-class research and outstanding teaching programs for medical professionals.
Each of their 22 locations specializes in one or more of their broad service lines. All care and services are provided to children up to age 18 regardless of the families' ability to pay.
15. Feed the Children
"Feed the Children" exists to end childhood hunger. It's the cause upon which they were founded in 1979 and the one that they continue to fight for each and every day.
They know it takes the power of many to end childhood hunger for good. They connect donors, experts, partners, leaders and communities to attack the problem from all angles.
They are taking a stand and they will not rest until every child has enough to eat.
VISION:
Create a world where no child goes to bed hungry.
16. Feeding America
"Feeding America" has responded to the hunger crisis in America by providing food to people in need through a nationwide network of food banks.
The concept of food banking was developed by John van Hengel in Phoenix, AZ in the late 1960s. Van Hengel, a retired businessman, had been volunteering at a soup kitchen trying to find food to serve the hungry.
Working Together To End Hunger:
The Feeding America network is the nation's largest domestic hunger-relief organization. Together with individuals, charities, businesses and government they can end hunger.
Feeding America is leading the fight to end hunger in their nation. Not only do they feed people facing hunger, but they also raise awareness about the issue, advocate on behalf of Americans struggling with hunger and conduct in-depth research to better understand the problem. Together they are working to break the cycle of poverty and hunger. List of Top 21 Online Healthcare Foundations for Donation in USA.
 17. United States Fund for UNICEF
"United States Fund for UNICEF" supports UNICEF's work, and other efforts in support of the world's children, through fundraising, advocacy and education in the United States.
They work with governments, civic leaders, celebrities, corporations, campus groups, churches, teachers and people just like you.
What does UNICEF do?
UNICEF began in the aftermath of World War II, supplying dried milk, nutritional supplements, medicines, immunizations and other urgent assistance to help starving and ill children in Europe, the Middle East and China. Today UNICEF works in more than 190 countries and territories to save and improve children's lives.
In cooperation with governments and non-governmental organizations (NGOs), UNICEF saves and protects the world's most vulnerable children, working to ensure child rights and providing health care, immunizations, nutrition, access to safe water and sanitation services, basic education, protection and emergency relief.
18. Human Rights Watch 
Human Rights Watch is a nonprofit, nongovernmental human rights organization made up of roughly 400 staff members around the globe. Its staff consists of human rights professionals including country experts, lawyers, journalists, and academics of diverse backgrounds and nationalities. Established in 1978, Human Rights Watch is known for its accurate fact-finding, impartial reporting, effective use of media, and targeted advocacy, often in partnership with local human rights groups. Each year, Human Rights Watch publishes more than 100 reports and briefings on human rights conditions in some 90 countries, generating extensive coverage in local and international media. With the leverage this brings, Human Rights Watch meets with governments, the United Nations, regional groups like the African Union and the European Union, financial institutions, and corporations to press for changes in policy and practice that promote human rights and justice around the world.
MISSION STATEMENT:
Human Rights Watch defends the rights of people worldwide. They scrupulously investigate abuses, expose the facts widely, and pressure those with power to respect rights and secure justice. Human Rights Watch is an independent, international organization that works as part of a vibrant movement to uphold human dignity and advance the cause of human rights for all.
19. Delivering Good
"Delivering Good" (formerly K.I.D.S./Fashion Delivers) is a 501(c)(3) nonprofit, and the charity of choice for new product donations made by hundreds of companies in the fashion, home and children's industries. Donating new merchandise provides these companies with a simple and effective way to help millions of kids, adults and families facing poverty and disaster. Since 1985, over $1.6 billion of donated product has been distributed through their network of community partners.
Their MISSION:
Delivering Good unites retailers, manufacturers, foundations and individuals to provide people impacted by poverty and tragedy with new merchandise, effectively distributed through a network of agency partners to offer hope, dignity and self-esteem to at-risk children, families, and individuals. List of Top 21 Online Healthcare Foundations for Donation in USA.
Delivering Good is the new name for the national charity formerly known as K.I.D.S./Fashion Delivers. They help fight poverty and tragedies through the gift of new products, including apparel, accessories, shoes, home furnishings, toys, books, school supplies and other items. Merchandise is donated from companies that make or market the goods, and through their network of community nonprofit partners, they deliver hope and dignity to people in need. Since 1985, they have helped millions of kids, adults and families affected by poverty and disaster, with over $1.6 billion of donated product distributed to people in need. As their charity has evolved, they wanted to have a name and brand that could be embraced by their product donors, their financial donors, their community partners and the broader audience of consumers.
20. Step Up for Students
"Step Up For Students" empowers parents to pursue and engage in the most appropriate learning options for their children, with an emphasis on families who lack the financial resources to access these options. By pursuing this mission, they help public education fulfill the promise of equal opportunity.
Step Up For Students is a state-approved nonprofit scholarship funding organization that helps administer two scholarships for Florida schoolchildren: the Florida Tax Credit Scholarship Program (FTC) for low-income families and the Gardiner Scholarship (PLSA) for children with certain special needs.
21. YMCA
Mission:
"YMCA" is a nonprofit organization, whose mission is to put Christian principles into practice through programs that build healthy spirit, mind and body for all.
Their Cause:
They know that lasting personal and social change comes about when they all work together. That's why at the Y, strengthening community is their cause. Every day, they work side-by-side with their neighbors to make sure that everyone, regardless of age, income or background, has the opportunity to learn, grow and thrive.
The YMCA in the United States:
By nurturing the potential of every child and teen, improving the nation's health and well-being, and supporting and serving their neighbors, the Y ensures that everyone has the opportunity to become healthier, more confident, connected and secure.
The aforementioned foundations are some of the best and the most trusted websites for donation purposes. They reach out to authentic cases and responsibly share relevant details. The collected sums are then honestly delivered to the concerned individuals. And it goes without saying that these online healthcare foundations cannot function independent of local, public support. If people stop donating wholeheartedly for the economically disadvantaged segments of the society, these platforms will be of no use, and the disease stricken would be left to suffer under unfavorable circumstances. Inability to meet medical expenses would automatically mean that the ill will have to choose between dying and extremely high loans. However, as responsible citizens of the country, it is our job to ensure that neither of the two happens to anyone who is a part of this community. It is important that we all come together and join our efforts to make life a healthy experience for every single resident of the U.S.