Donate Adoon Hussain for his Neurology surgery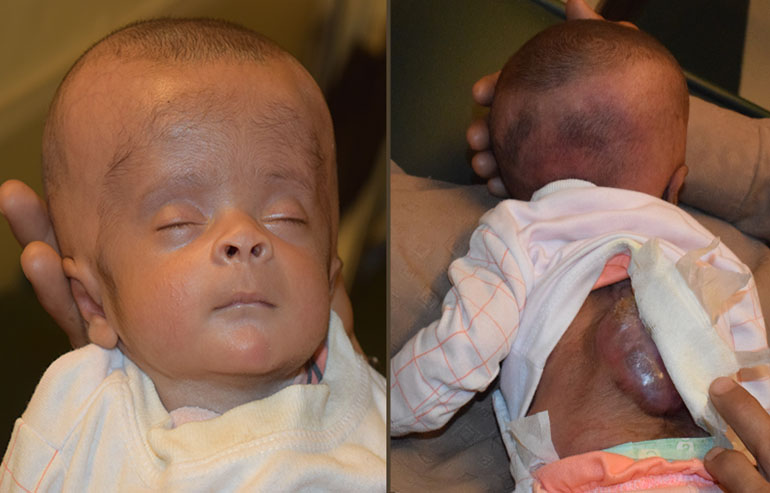 Adoon Hussain's Story
This poor baby is disowned by his own parents due to congenital disease!
Becoming parents is such a blessed feeling in the world but not every couple feels the same way. There are many who are dying to become parents whereas there are those who decide to disown their own children. Yes, that's absolutely true.
One such unlucky child is Adoon Hussain. Adoon is one month old poor baby boy who was born in Kasur. His parents were very happy when he was born but their happiness only lasted for a few days. Adoon was born normal but just after a few days, his head started growing bigger and he also developed a big lump on his back. Doctors told his parents that he is a patient of Hydrocephalus and meningocele due to which he won't be able to grow like normal kids. Instead of taking him to a good hospital for treatment, his parents disowned him. His father is a drug addict and he refused to even spend a single penny on him. Even his mother didn't make any effort for her child.
Luckily, there are still good people in this world. Adoon's aunt and uncle don't have children of their own. They decided to adopt Adoon and now they are trying to provide him every possible treatment and care. Adoon's uncle is a daily wager who is earning around 15,000 rupees a month. In such meager income, he is trying to do as much as he can so that Adoon can lead a healthy life like other kids. They took Adoon to a specialist hospital where doctor advised them to prepare him for Neurosurgery in which a VP shunt will be placed in his brain to prevent excessive fluid collection and abnormal growing of his head. After this surgery, Adoon will need to undergo another operation to treat his meningocele.
Doctor has told that if Adoon's operation is successful, he'll be able to live a normal life. Adoon's uncle and aunt don't have enough resources for his surgeries. They tried to find help from everywhere and luckily came to know about Transparent Hands.
Adoon is scheduled to undergo his first surgery for meningocele in a few days at Akram Medical Complex. After 10 days of his first surgery, his second operation of placing VP shunting will be conducted. His surgical procedures will only be possible with your kind support.
We request you to please donate for the surgeries of this poor baby boy so that he can lead a happy and healthy life. If he doesn't get surgical treatment soon, his whole body can be paralyzed and his life will be severely affected.
Donors who are supporting Adoon Hussain

---

---

---

---

---

---

---

---

---

---

---

---

---

---

---

---

---

---

---

---

---

---

---