Donate Ibrahim Rashid for his Duhamel Surgery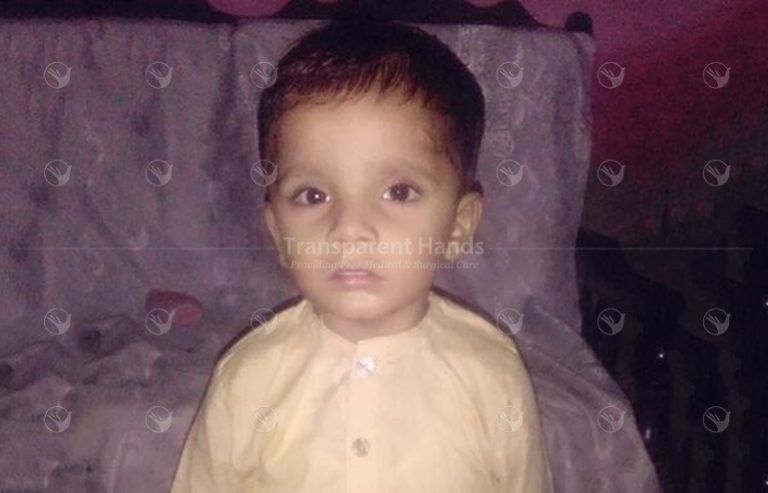 Ibrahim Rashid's Story
"The bright smile of my little son made me forget all my hardships as I took him into my arms for the first time. When doctor informed me about his birth defect, I just froze in anxiety because I was absolutely clueless and did not know how to ease his terrible condition."- Ibrahim's father.
Ibrahim is a 3 years old adorable child who was born with anorectal malformation – a disease that affects the development of the anus. This malformation has seriously affected his normal bodily functions as he cannot pass out stools through normal passage.
Doctor operated him right after he was born to build a colostomy on his abdomen for stool passage and recommended that he needs a 2nd surgery for permanent relief. They waited for his surgery for a long time but hospital never gave them date because of long list of patients already waiting for their treatment.
Ibrahim's father can hardly earn 10,000 rupees a month. He has to look after his old parents, his four school going siblings, his wife and two sons within this meager income. He is the only earning member of the family so it gets extremely difficult for him to handle all the expenditures of his big family.
Ibrahim's father wants his son to get well but cannot afford the costly surgery so he came to Transparent Hands to arrange a free surgical procedure for his son. We have the strength to ease the pain of Ibrahim and give him back his right to live in comfort.
Ibrahim is scheduled for his Abdominoperineal Pull Through Duhamel surgery in a few days and it will only be possible with your immense support. Nothing in this world can be more pleasing than knowing that your monetary contribution has become the reason behind a child's smile. Your donation can give Ibrahim the access to a safe and peaceful childhood.
Donate now to save Ibrahim!
Donors who are supporting Ibrahim Rashid

---

---

---

---