Donate Muhammad Husnain for his Urology Surgery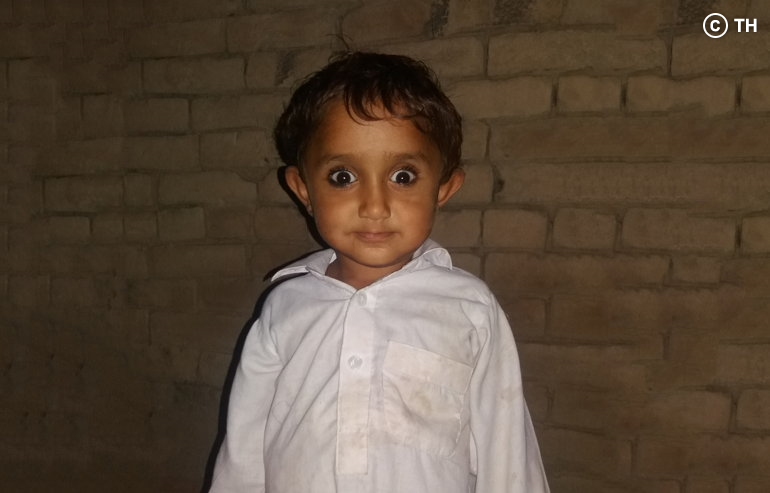 Muhammad Husnain 's Story
Muhammad Husnain 2 ½ years boy presented in miserable condition due to painful micturation. He was operated a year ago for posterior urethral valves. Then diagnosed to have Lt. Vesicoureteric reflux with Lt. Hydronephroureter and Non functioning Rt. kidney. He was advised Cystoscopy, Uretrorenoscopy and Uretrostomy to salvage his functioning kidney. His surgery was done in Akram Medical Complex on 29-09-17 by Dr. Ghulam Mujtaba. He remained alright after the surgery and stayed for 4 days in hospital. He was discharged with his Lt.uretrostomy working well which is to be reversed in future surgeries.
Read More
Muhammad Husnain 's Story
Give your donations for the surgery of this little boy and ease his sufferings.
Muhammad Husnain is a two and half years old boy who is suffering from bladder outlet blockage since he was 9 months old. Due to this, his right kidney has become non-functional whereas his left kidney is swollen due to back pressure and is being damaged with each passing day making a serious threat to his life.
Muhammad Husnain underwent his first surgery for posterior urethral valves causing blockage when he was only one and half years old. His bladder outflow improved but there was permanent damage to his right kidney function and his left kidney function is at stake due to vesico-ureteric reflux. He experiences severe abdominal pain, high fever and painful urination. Doctor advised to prepare him for surgery which could save his only kidney by making an alternative outflow passage onto his tummy. He'd require another major surgery after few months to reverse the passage through normal route.
This poor family lives in a small town of Mianwali. Husnain's father is disabled due to his left leg injury. He owns a fruit stall in his village from which he hardly manages to earn around 400 rupees a day. Husnain, his parents and two sisters live together in one small room. They are deprived of basic necessities of life including water and gas supply. Husnain's parents cannot afford the surgical expenses of their only son. They came to Transparent Hands with many high hopes.
Let's help this family by donating for Husnain's surgery. Only with your donations, Husnain can get a new hope for life. Donate as much as you can and save his life!
Donors who are supporting Muhammad Husnain

---

---

---